'Unbuilt Washington' Exhibit Reveals Rejected Designs For D.C.'s Most Recognizable Landmarks (PHOTOS)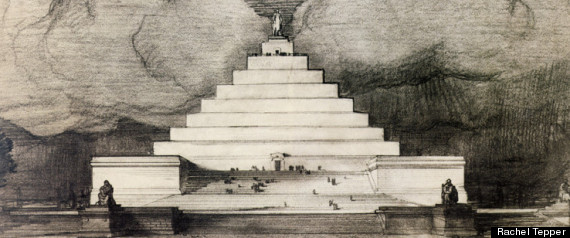 WASHINGTON -- For every monument, museum and bridge ever built in the nation's capital, you can bet there were myriad rejected design proposals, now living only as moldering drafts. A new exhibition at the National Building Museum called "Unbuilt Washington" aims to breath some life into these long-forgotten projects, on display Nov. 19 through March 28.
In the mix are some serious designs, like an early proposal for the White House thought to be drawn by Thomas Jefferson, and some not-so-serious ones, including a dolphin-themed hotel (with real, live dolphins!) and an interactive monument called the National Sofa that incorporated a screen that would have shown scenes from inside the White House. Some images suggest that now-cherished monuments could have looked completely different. The Lincoln Memorial, for instance, was once imagined as an imposing pyramid.
Might the recently proposed global trade center atop Interstate 395 near Mount Vernon Square, which incorporates the idea of the Earth as an egg splitting open to reveal a new structure, someday be added to this collection? "Unbuilt Washington" curator G. Martin Moeller Jr. certainly doesn't believe it'll ever be built.
"I suspect that's something that's not going to go very far," he told The Huffington Post this week at the exhibition's media preview on Wednesday. "It just goes to show you that there are still surprises coming out in the design and development world at all times. Reaction to that so far has not been particularly positive."
Click through the below slideshow for a glimpse of what Washington could have looked like.
Loading Slideshow
This entry to the U.S. Capitol design competition by James Diamond in 1792 is one of many sent in by amateur architects. This one is notable for its oddly drawn weathercock.

Although this 1792 entrant to the White House design competition is attributed to someone named "A.Z.," many scholars believe its creator is actually Thomas Jefferson.

This design for the U.S. Capitol, proposed by William Thornton in 1797, features a high dome.

This drawing features an 1873 competition entry by Leon Beaver to design the Library of Congress.

When construction of the Washington Monument was suddenly halted in 1856, the structure was left half finished for four decades. This proposal to complete the project, put together by Vinnie Ream Hoxie between 1876 and 1878, features a large statue of Washington.

On what is currently the site of the Washington Hilton, Waddy B. Wood proposed an enormous Masonic Temple complex. This design dates to 1922-24.

In 1852, B.F. Smith suggested several improvements to the Washington Monument and National Mall. Among them: A variation on the circular colonnade, which was actually part of the monument's original design but never executed. He also proposed a suspension bridge across a canal adjacent to the Mall, which is today's Constitution Avenue.

The Kennedy Center could have looked like this. The above image shows a curvy, modern proposal by Edward Durell Stone, dated 1959. It's drastically different from the boxy design that was eventually chosen.

This image contains Robert Mill's 1846 winning entry for the competition to design the Washington Monument. The original proposal features an obelisk anchored by a circular, Greek-inspired temple at the base. The base was never executed, and when the structure was finished nearly four decades after this drawing was produced, the proportions of the obelisk itself were changed.

The White House would look much different today if these proposed extensions by Robert Owen between 1891 and 1901 went forward. He wanted to create two approximate replicas of the original structure, rotate them 90 degrees and place them on either side. An open court with a green house would reside at the south end.

What if the president didn't live in the White House? In 1898, Mary Foot Henderson, the wife of a former U.S. senator, commissioned architect Paul Pelz to design this palatial replacement. It would have sat on Meridian Hill -- directly across the street from the Henderson's own 16th Street NW mansion.

Today, we think of the Memorial Bridge (which honors General U.S. Grant) as a modest, low-to-the-ground structure. This proposal by Smithmeyer & Pelz from 1887 imagines it differently, with tall towers in the middle of it.

In 1974, Hugh Newell Jacobsen proposed a project called "Housing on the Avenue," which would have been located along Pennsylvania Avenue NW on the current site of Market Square complex and the Navy Memorial. The terraced look was designed to look like Italian hill towns.

Ever heard of the National Sofa? This tongue-in-cheek project from 1996 by Jim Allegro, AIA, and Doug Michels would have been located across Pennsylvania Avenue in front of the White House. The National Sofa, inspired by the concern sparked by the closure of Pennsylvania Avenue following the Oklahoma City bombing, was designed as a way to prevent isolation of the presidency from the people.

This was actually a serious proposal: In 1989, Doug Michels Architecture collaborated with Jim Allegro to propose the Dolphin America Hotel. Michels was fascinated by dolphins and suggested various projects that would bring humans into closer contact with them.

It's hard to imagine the Lincoln Memorial as a terraced pyramid. This proposal by John Russell Pope in 1912 was one of his several designs in a variety of different styles.
RELATED VIDEO: Monuments At Night