In our series FaceTime, a beauty street style column, we find inspiring girls around New York City and dissect their look.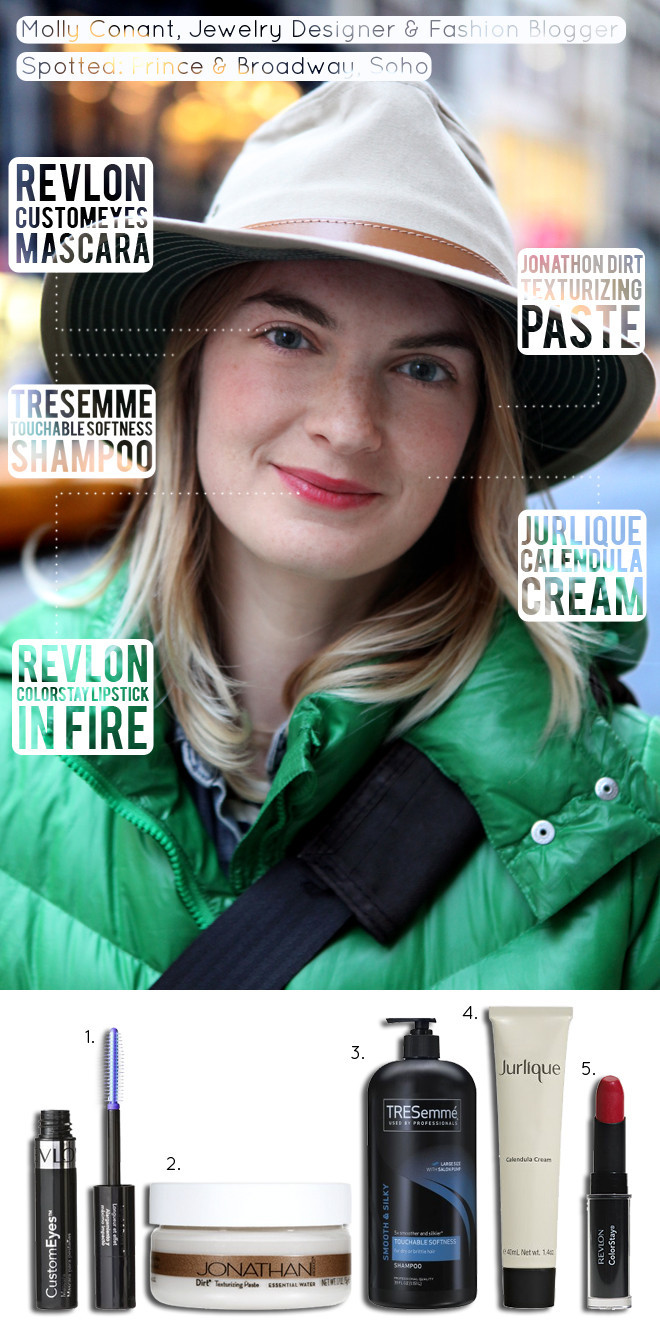 Photo/Art: Bobby Doherty
Where to buy:
1. Revlon CustomEyes Mascara, $8, revlon.com
2. Jonathon Dirt Texturizing Paste, $14, amazon.com
3. TRESemme Touchable Softness Shampoo, $5.50, target.com
4. Jurlique Calendula Cream, $35, jurlique.com
5. Revlon ColorStay Lipstick in Fire, $8, revlon.com
Take a look at previous FaceTime photos in the gallery below.
1. TIGI Bed Head Small Talk Thickifier, $14, drugstore.com, DevaCurl One Condition Ultra Creamy Daily Conditioner, $19, devachansalon.com, MAC Opulash Optimum Mascara, $15, nordstrom.com, Alba Aloe & Green Tea Oil-Free Moisturizer, $20, ulta.com, The Body Shop Born Lippy Pink Guava Lip Balm, $6, thebodyshop-usa.com, L'Oreal Paris True Match Natural Mineral Foundation, $16, lorealparisusa.com

Clinique Moisture Surge Extended Thirst Relief, $36, clinique.com, Panthera Ultraflesh Mascara, $13, sephora.com, Laura Mercier Moisturizing Foundation in Blush Ivory, $42, sephora.com , Smith's Rosebud Salve, $6, drugstore.com, L'Oreal Paris Colour Riche Lipstick in Really Red, $10, lorealparisusa.com

BareMinerals Powder Foundation SPF15 in Medium Gold, $31, amazon.com, Lancome Hypnose Drama Mascara, $26, lancome-usa.com, Palmer's Cocoa Butter Concentrated Cream, $7, walmart.com, Garden Of Life Raw Vitamin E, $18, livesuperfoods.com, Lancome La Laque Fever in Electric Pink, $27, lancome-usa.com

Chanel Inimitable Mascara, $30, chanel.com, Herbal Essences Hello Hydration Shampoo, $8, drugstore.com, MAC Pro Longwear Foundation, $30, maccosmetics.com, MAC Eyeshadow in All That Glitters, $15, maccosmetics.com, Carmex, $2, cvs.com

Maybelline Volum' Express The Falsies Waterproof Mascara, $7, drugstore.com, MAC Studio Finish Concealer, $17, macys.com, Chanel Powder Blush, $43, chanel.com, Nivea Face Creme, $6, drugstore.com

MAC Zoom Fast Black Lash Mascara, $15, bloomingdales.com, Dermalogica Dermal Clay Cleanser, $51, dermalogica.com, YSL Touche Eclat Concealer, $40, sephora.com, Bumble and bumble Seaweed Shampoo, $19, bumbleandbumble.com, Bumble and bumble Seaweed Conditioner, $20, bumbleandbumble.com, Dermalogica Intensive Moisture Balance, $40, dermalogica.com, NARS Lipstick in Barbarella, $24, narscosmetics.com

John Frieda Root Awakening Strength Restoring Shampoo, $6, drugstore.com, Aveeno Ultra-Calming Daily Moisturizer, $14, drugstore.com, Desert Essence Natural Tea Oil Facial Cleansing Pads, $8, walgreens.com, Burt's Bees Beeswax Lip Balm, $3, burtsbees.com

Spectrum Organics Almond Oil, spectrumorganics.com, Hair Rules Daily Cleansing Cream Moisture-Ruch No-Suds Shampoo, $23, drugstore.com, Givenchy Le Prisme Mono Eyeshadow in Trendy Plum, $29, sephora.com, Givenchy Phenomen'Eyes Mascara, $30, sephora.com, Lancome Creme Radiance Clarifying Cleanser, $25, nordstrom.com

Intelligent Nutrients Harmonic Shampoo, $22, intelligentnutrients.com, Dr. Alkaitis Organic Day Creme, $65, alkaitis.com, RMS Beauty Lip2Cheek in Smile, $36, shen-beauty.com, RMS Beauty "Un" Cover-Up, $36, shen-beauty.com

NARS Eyeliner Pencil, $21, narscosmetics.com, Fairydrops Scandal Queen Mascara, $24, sephora.com, NARS Blush in Orgasm, $27, narscosmetics.com, Shiseido Pureness Mattifying Oil-Free Moisturizer, $33, shiseido.com, Fresh Sugar Passion Tinted Lip Treatment SPF15, $23, sephora.com

Wella Brilliance Shampoo, $11, amazon.com, MAC Fluidline Gel Eyeliner, $15, Bloomingdales.com, Bioderma Crealine H20 Makeup Remover, $27, amazon.com, Embryolisse Rich Moisturizing Cream, $43, amazon.com, Smith's Rosebud Lip Salve, $6, sephora.com

Mane & Tail Shampoo, $8, amazon.com, Clinique Moisture Surge Face Cream, $34, clinique.com, Fresh Soy Face Cleanser, $38, sephora.com, Fresh Sugar Plum Lip Treatment, $23, fresh.com

Aveda Aloe Flax Seed Sculpturing Gel, $17, target.com, Herbal Essences Tousle Me Softly Shampoo, $8, soap.com, CoverGirl LashBlast Length Mascara, $7, amazon.com, Burt's Bees Beeswax Lip Balm, $3, drugstore.com, Olay Complete All Day UV Moisturizer, $9, drugstore.com

Lancome Hypnose Doll Lashes Mascara, $25, bloomingdales.com, Kerastase Bain Volumactive Volumizing Shampoo, $36, kerastase-usa.com, La Roche-Posay Rosalic Anti-Redness Moisturizer, $36, laroche-posay.us, Vaseline, $5, drugstore.com

Carol's Daughter Rosemary Mint Clarifying Shampoo, $16, carolsdaughter.com, CoverGirl LashBlast Luxe Mascara, $8, target.com, Bobbi Brown Skin Foundation SPF15, $46, bobbibrowncosmetics.com, Kiehl's Ultra Facial Moisturizer, $16, kiehls.com, Smith's Rosebud Salve, $6, sephora.com

John Frieda Root Awakening Nourishing Moisture Shampoo, $7, ulta.com, Maybelline Great Lash Mascara, $5, drugstore.com, Elizabeth Arden Eight Hour Cream, $17, elizabetharden.com, Dermalogica Intensive Moisture Balance, $60, dermalogica.com, Laura Mercier Oil Free Foundation, $42, lauramercier.com

Burt's Bees Beeswax Lip Balm, $3, drugstore.com, Dr. Hauschka Moisturizing Day Cream, $40, drhaushka.com, Jo Malone Rose Water & Vanille Cologne, $135, jomalone.com, Avalon Organics Olive & Grape Seed Extra Moisturizing Shampoo & Conditioner, $10, avalonorganics.com, Thayer's Lemon Witch Hazel, $10, thayers.com, Aura Cacia Apricot Kernel Oil, $5, auracacia.com

L'Oreal Paris EverPure Sulfate-Free Moisture Shampoo, $7, lorealparisusa.com, Maybelline Colossal Volum' Express Mascara, $9, soap.com, YSL Touche Eclat Concealer, $40, yslbeauty.com, La Roche-Posay Anthelios 60 UltraLight Sunscreen Fluid, $30, laroche-posay.us, Fresh Sugar Lip Treatment, $23, sephora.com

Givenchy Parad'Eyes Fluid Eye Liner, $27.50, sephora.com, Maybelline Great Lash Mascara, $5, drugstore.com , L'Oreal Elnett Satin Hairspray, $14.99, drugstore.com, Kiehl's Ultra Facial Tinted Moisturizer, $24.50, kiehls.com, Smith's Rosebud Salve, $6, sephora.com

Revlon CustomEyes Mascara, $8, revlon.com, Jonathon Dirt Texturizing Paste, $14, amazon.com, TRESemme Touchable Softness Shampoo, $5.50, target.com, Jurlique Calendula Cream, $35, jurlique.com, Revlon ColorStay Lipstick in Fire, $8, revlon.com

Shiseido Tsubaki Shining Shampoo, $17, amazon.com, Shiseido Luminizing Stain Eye Color Trio, $33, nordstrom.com, , Maybelline FIT Me Foundation, $8, ulta.com, Shiseido Automatic Fine Eyeliner, $29, nordstrom.com, Kanebo Naive Face Wash, amazon.com, Nivea Hydrating Lip Care SPF4 Lip Balm, $5, amazon.com

Chanel Inimitable Mascara, $30, chanel.com, Tresemme Naturals Nourishing Moisture Conditioner, $13, amazon.com, EOS Peppermint Lip Balm, $3.49, drugstore.com, Fresh Soy Face Cleanser, $15, sephora.com

Avalon Organics Rosemary Volumizing Shampoo, $10, avalonorganics.com Sephora Collection Waterproof Eyeliner, $8, sephora.com C.O. Bigelow Neroli Essential Oil, $60, bigelowchemists.com Laura Mercier Illuminating Powder in Coral Rose, $35, saks.com Aveeno Clear Complexion Foaming Cleanser, $6, aveeno.com

Klorane Dry Shampoo, $18, drugstore.com Matrix Shampoo and Conditioner, amazon.com DiorShow Mascara, $24.50, macys.com Homeoplasmine Lip Balm, $tk, newlondonpharmacy.com Bioderma Crealine Face Cleanser, $22, amazon.com

Mane & Tail Deep Moisturizing Shampoo, $17, amazon.com Bertolli Olive Oil, amazon.com MAC Powder Blush in Pinch Me, $19, maccosmetics.com Creme La Mer Face Cream, $135, cremedelamer.com Fresh Sugar Lip Treatment SPF 15, $23, sephora.com

Kiehl's Ultra Facial Moisturizer, $16, kiehls.com Kerastase Reflection Bain Miror Shampoo, $36, kerastase-usa.com Chanel Rouge Coco Shine Hydrating Lipshine in Boy, $32, chanel.com Chanel Precision Ultra Correction Lift Night Cream, $165, bloomingdales.com Kate Somerville Exfolikate Intensive Exfoliating Treatment, $85, katesomerville.com

1. MAC Dazzle Lash Mascara, $15, maccosmetics.com 2. Bobbi Brown Skin Foundation SPF15, $15, bobbibrowncosmetics.com 3. Kiehl's Olive Fruit Oil Nourishing Shampoo, $18, kiehls.com 4. Kiehl's Lip Balm #1, $6, kiehls.com 5. Moroccanoil Oil Treatment, moroccanoil.com

Photo: Bobby Doherty 1. CoverGirl VolumExact Mascara, $7, amazon.com 2. MAC Studio Sculpt SPF15 Foundation, $29.59, maccosmetics com 3. Aveeno Positively Radiant SPF30 Moisturizer, amazon.com 4. Burt's Bees Tinted Lip Balm in Red Dahlia, $7, drugstore.com 5. Quo Eyeliner, quocosmetics.org

Photo: Bobby Doherty 1. Bumble and bumble Bb. Texture Hair (Un)Dressing Creme, $26, bumbleandbumble.com 2. Rodin Olio Lusso Face Oil, $140, barneys.com 3. CoverGirl LashBlast Length Mascara, $8, amazon.com 4. Tarte Cheek Stain in Tipsy, $30, tartecosmetics.com 5. Fresh Creme Ancienne, $135, sephora.com

Photo: Bobby Doherty 1. Terax Miele Hydrating Shampoo, $20, amazon.com 2. Terax Original Crema Conditioner, $48, amazon.com 3. DiorShow Mascara, $24.50, sephora.com 4. MAC Powder Blush in Fleur Power, $19.50, maccosmetics.com 5. Fresh Sugar Lip Treatment, $22.50, sephora.com

Photo: Myra Iqbal 1. Revlon Eyelash Curler, $3, revlon.com 2. Sephora Brow Sculpting Pencil in Medium, $3, sephora.com 3. CoverGirl LashBlast Mascara, $8, drugstore.com 4. MAC Select Sheer Loose Powder, $23, maccosmetics.com 5. MAC Studio Fix Fluid SPF15, $26.50, maccosmetics.com 6. ChapStick Classic Lip Balm, $1.25, drugstores

Photo: Myra Iqbal 1. John Frieda Sheer Blonde Go Blonder Lightening Shampoo, $6.49, drugstore.com 2. Bobbi Brown Lash Glamour Extreme Lengthening Mascara, $24, bobbibrowncosmetics.com 3. TIGI Bed Head Control Freak Serum, $16.50, amazon.com 4. Moroccanoil Oil Treatment, $24, amazon.com 5.Bobbi Brown Rich Lip Color in Old Hollywood, $23, bobbibrowncosmetics.com

Photo: Bobby Doherty 1. Rusk Sensories Passionflower & Aloe Shampoo, $21, amazon.com 2. Mac Haute & Naughty Mascara, $19, maccosmetics.com 3. Dior Capture Totale Foundation, $78, sephora.com 4. Tarte Lip Sheer SPF15 in Friday, $16, tartecosmetics.com

1. Shu Uemura Ultimate Natural Mascara, $28, shuuemura-usa.com 2. Dior Diorskin Nude Foundation, $46, nordstrom.com 3. bareMinerals SPF30 Natural Sunscreen, $28, sephora.com 4. Smith's Rosebud Salve, $6, sephora.com

Photo: Bobby Doherty 1. NARS Eyeliner in Black Moon, $21, sephora.com 2. Lancome Sensational Effects Eyeshadow in Click, $18, lancome-usa.com 3. MAC Lipstick in Lady Danger, $14.50, maccosmetics.com 4. Olay Complete All Day UV Moisturizer SPF15, $11, drugstore.com 5. Illamasqua Blush in Hussy, $24, sephora.com 6. Diorshow Backstage Mascara, $24.50, dior.com

1. Maybelline Colossal Volum' Express Mascara, $6, drugstore.com 2. MAC Lipstick in Russian Red, $14.50, maccosmetics.com 3. Neutrogena Ultra-Sheer Dry Touch Sunblock, $10, neutrogena.com 4: Haircut: Edge in Paris
BEAUTY RELATED LINKS YOU MAY LOVE:

A Ginormous Guide To Winter Nail Polishes - Refinery29

Think Hair Is Complicated Now? Just Check Out These Styles From the '30s - BellaSugar

The 13 Hottest New Fragrances - Allure

Top 5 Most Common Hair Care Mistakes Solved - Daily Makeover