Denver police have reported 15 vicious assaults by a group of individuals on or near the 16th Street Mall downtown over the last several months and the Denver branch of the Guardian Angels say enough is enough. The all-volunteer force in their trademark red berets and jackets have increased their patrols around the mall in response to the attacks.
(SCROLL DOWN FOR MAP OF RECENT ASSAULTS DOWNTOWN)
Sebastian Metz, the Guardian Angels regional director in Denver, spoke to The Denver Post and said, "the recent attacks, we can't ignore that. We hope our visible presence will stop some stuff and reassure people as well." The Guardian Angels can usually be seen patrolling Colfax Ave. and the mall on the weekends, but they are now going out on weeknight patrols, as well.
Between Aug. 1 through Nov. 9, the Denver police have reported 15 incidents where a groups of individuals have displayed "predatory" behavior in the downtown Denver area. In some of the cases, victims have been assaulted and/or robbed. The police believe that a suspect will instigate contact with a potential victim and create a confrontational situation, that's when the individual suspect is then joined by several other individuals who all assault the victim.
Although police say there hasn't been an assault since Nov. 9, Fox31 reports that it's still unknown if the beating of 36-year-old Eli Leon at 19th and Wazee late at night last Thursday which resulted in a skull fracture is connected to the others. The police report that the previous assaults were happening weekly and at least one suspect is believed to have been involved in multiple attacks.
"We feel like people should be able to walk the streets in their hometown," Guardian Angels Coordinator Carl "Doc" Webster told 7News.
The police offer this safety advice to mall walkers:
Be aware of your surroundings.
Walk only on busy, well-lighted streets, even if it makes the trip a little longer.
Avoid shortcuts through parking lots, alleys or parks.
If you feel you are being followed, cross the street or begin walking in a different direction. Walk toward lighted, more populated areas.
If a vehicle is following you, turn and run in the opposite direction. The driver will have to turn around before continuing to follow you, buying you time to make it to safety.
The Guardian Angels are always looking for new volunteers that are dedicated to helping their community. For more information, visit the Guardian Angels website and locate your local chapter or start a new chapter yourself.
DPD map of assaults/robberies near downtown: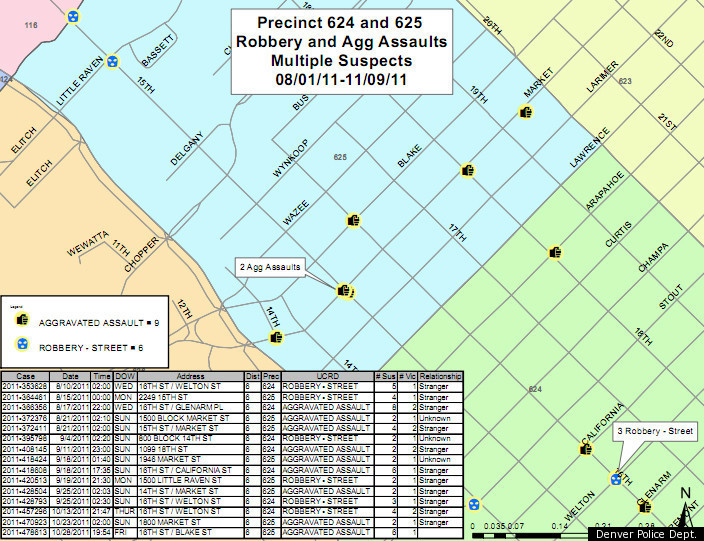 SUBSCRIBE TO & FOLLOW THE MORNING EMAIL
Start your workday the right way with the news that matters most. Learn more