In a move that could revolutionize the way we think of hands-free communication, scientists have invented a bionic contact lens that could display real-time news, emails and text messages only millimeters from your retina.
Drivers or pilots could see a vehicle's speed projected onto the windshield. Video-game companies could use the contact lenses to completely immerse players in a virtual world without restricting their range of motion. And for communications, people on the go could surf the Internet on a midair virtual display screen that only they would be able to see.
"People may find all sorts of applications for it that we have not thought about," Babak Parviz, UW assistant professor of electrical engineering said in a research announcement poste on the department's website. "Our goal is to demonstrate the basic technology and make sure it works and that it's safe."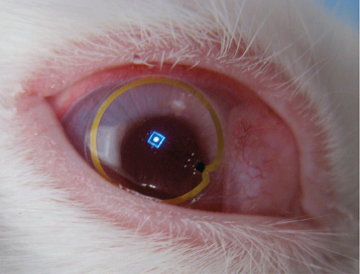 Photo courtesy of the University of Washington
But scientists still have plenty of hurdles to clear before they can can bring the Terminator-like lenses to the market. The device's small size means researchers only have enough space for one LED, making the display of complex information much more difficult.
Another challenge is powering the microscopic circuits inside the lens. Currently, the lens can only function if it stays within centimeters of its wireless battery.
SUBSCRIBE TO & FOLLOW LIFESTYLE
HuffPost Lifestyle is a daily newsletter that will make you happier and healthier — one email at a time. Learn more