The MTA has agreed to temporarily stop dynamiting underneath the Upper East Side after numerous complaints from residents that the 2nd Avenue subway project is creating dangerous amounts of smoke and dust, NBC News reports.
"I don't want it to turn into a 9/11 situation where, five to 10 years down the line we're sick," resident Donna Pressman said at a meeting of Community Board 8's Second Avenue Subway Task Force Committee on Tuesday.
Here's a video of one blast at 92nd street last year:
MTA capital construction program exec William Goodrich explained the postponement to the Community Board meeting, saying, "Basically, we did this because we heard loud and clear from the community. We heard loud and clear from elected officials."
The MTA will work to alter its exhaust systems to reduce the amount of debris coming up from underground. Work is scheduled to resume on December 5th.
"It's like gun powder that is going up in the air," Jean Schoenberger, who lives East 70th street, told The Times. "It is a smoke cloud that is very pervasive."
The 2nd avenue subway project has long been a nuisance to Manhattan East-siders with excessive noise and vibrations that crack walls. Last month, construction workers accidentally punched a hole into a residential building, breaking through the wall of an apartment directly over a baby's crib.
And although community members were excited at news of the suspending the blasts, which elicited a burst of applause from the Community Board meeting audience, Goodrich also explained that the halt in construction meant the MTA had laid some workers off of the $4.4 billion project.
"I have a very difficult time with that, knowing what time of year it is," he said.
This is what the 2nd Avenue Subway will look like when completed: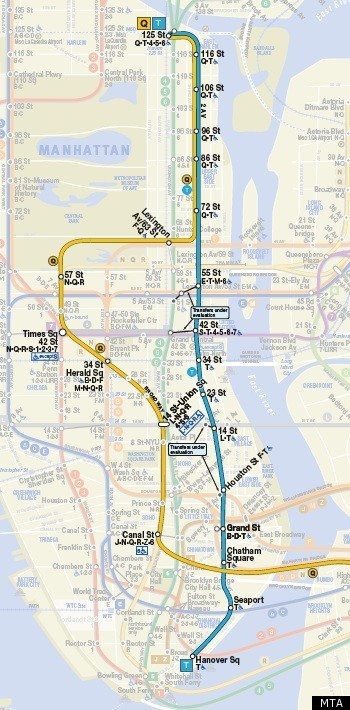 SUBSCRIBE AND FOLLOW
Get top stories and blog posts emailed to me each day. Newsletters may offer personalized content or advertisements.
Learn more