One of the highlights of Thanksgiving is gathering around the TV to watch an oblong spheroid fly through the air.
For millions of Americans, the object zipping through the sky is a football, but a small, passionate coterie prefer seeing pumpkins fly more than pigskins.
For those people, there is "Punkin Chunkin," a special competition being simulcast Thanksgiving night on both the Discovery Channel and the Science Channel. It focuses on the annual world championship that has been held for 25 years during the first week of November by the World Championship Punkin Chunkin Association.
The competition takes place in a cornfield in Sussex County, Del., and various teams of tenacious "punkin chunkers" try to squash their rivals by building homemade contraptions designed to propel pumpkins as far as they can go using slingshots, catapults, centrifugals, trebuchets, or pneumatic air cannons.
How far is that exactly? Well, the Guinness Record, which was set in late October in Moab, Utah, is more than a mile -- 5,545.43 feet to be exact.
But unlike pro football teams like Detroit, Dallas and San Francisco, whose games will also be airing during turkey time, the stouthearted "punkin chunkers" won't get a huge paycheck, endorsement deals or even a chance to go to the playoffs. Instead, they just get a trophy, according to Kari Byron, one of the stars of the Discovery Channel show "Mythbusters" who will be co-hosting the special with co-stars Grant Imahara and Tory Belleci, who covered the event last year.
This is Byron's first year covering the event, and she said nothing her co-workers told her could prepare her for seeing pumpkins being hurled through the air.
"There is no way to truly know how crazy it is," Byron said. "It's so much bigger than you would believe. This is a crazy sport and people spend an entire year preparing for the contest, even though all they get is bragging rights."
Case in point: Byron said one of the competitors is a soldier who has missed the previous two events because he was in Afghanistan, but spent his off-hours there working on a machine that would use torsion to propel the pumpkins.
But Byron said the real star of the event may be "Fat Jimmy," a guy whose efforts might best be described as "a hilarious failure."
"He is one nutty character," she said affectionately. "I like to think of him as the mayor of 'Punkin Chunk,' but I think he thinks he's the village idiot."
For the record, Fat Jimmy, as he prefers to be known, has been participating in Punkin Chunkin for 13 years, usually on two separate teams.
"We created the second machine -- a small slingshot -- just so we could get more people inside the event," he said. "Instead of seven, we could bring 14."
Over the years, Fat Jimmy and other punkin chunkers have taken advantage of scientific advancements to improve the range of the pumpkins.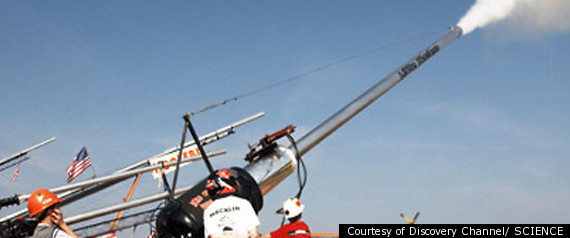 "We've moved from using weights to surgical tubing," he said. "The pumpkins have changed as well. It is crazy how they have gotten down to almost a solid pumpkin. There are probably guys who are trying to put dimples on a pumpkin so it will fly like a golf ball."
The event has changed too, he said, going from 15,000 people to nearly 100,000, but he still feels the event has stayed true to its roots.
"I enjoy being in the pits, but I enjoy going out in the crowd as well," he said. "It's almost like a family reunion."
But while the machine is supposed to get the lion's share of the attention from his team, Fat Jimmy believes all chucking and no chugging makes for a dull event.
"We transport the machine in a school bus that we turned into a party room, and it has a smoker on the side for barbecue," he said.
Even though the Punkin Chunkin event is fun for him, Fat Jimmy said he and his team plan to take next year's event more seriously.
"In years past, we drug the machine out a week before the event," he said. "We're meeting on Sunday to work out what we're going to do next year."
Perhaps no one understands the spirit of competition that flares up at the Punkin Chunkin championship like Dawn Thompson, who in 2010 served as captain of the air cannon team, Hormone Blaster, the first all-female team to claim the top prize.
"It was a big step forward," Thompson said. "They didn't think an all-female team could ever do one."
For Thompson, the monumental victory not only was a landmark for women everywhere, but it gave her bragging rights where it mattered most: in her home.
Thompson is married to the creator of the sport, Bill Thompson, who she met while working as a waitress at a local diner. Even though she has been world champion for 12 months, it's taken her a while to get adjusted to the fame that goes with it.
"I think anyone is surprised to win a world championship, but I know there's a target on me," she said.
Still, that isn't stopping her from attempting to defend her crown.
"We worked all year on the machine," she said.
Although Thompson admits her future hubby had to do a little work to get her to go out with him, they are happily married and, more importantly, happily chucking pumpkins together -- a love they have taught their kids and grandkids.
"In fact, my grandson's first words were 'Punkin Chunkin,'" she said.
Byron is a relatively new convert to the sport, but she is convinced that the sky's the limit for Punkin Chunkin.
"More people in Delaware watch this event than NASCAR," she said. "This is my football. I can see arguing with my Dad over the remote at Thanksgiving."
FOLLOW HUFFPOST