NEW YORK -- Lynn U., a 58 year old mom of two, is bringing cornbread stuffing to her aunt's Thanksgiving celebration this year. What the aunt doesn't know is that Lynn didn't find her ingredients in the aisles of a grocery store, but in the trash bags outside.
Lynn, who asked that her last name not be used to protect herself from possible backlash from her employer, is neither homeless nor broke. She has a college education and a good job as a middle school teacher. And she lives on Manhattan's Upper East Side, one of the country's more affluent neighborhoods. But ever since she went on a "trash tour" in 2007 with a group of freegans, or those whose diet consists only of discarded food, Lynn has also embraced dumpster diving. In 2008 she made her family's entire Thanksgiving dinner exclusively out of garbage materials.
As most Americans spend today indulging (and prepping for Black Friday's shopping battleground), a few like Lynn are choosing to celebrate by taking a bite out of the food waste problem.
Not that a dumpster dinner is completely altruistic. Since Lynn began diving four years ago, her family has saved $9,000 a year on groceries. No one in her family has ever gotten sick from the food, she said, and most of what she finds in her neighborhood is organic.
Some of the Thanksgiving divers have larger ambitions for their free finds.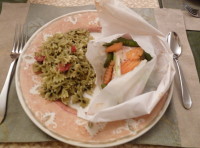 A dinner made by Lynn U. from
discarded food (Courtesy of Lynn U.)
Austin Redwood, a 24 year old recent college grad living in Baltimore, hopes to score enough food from dumpsters within the next few days to feed 25 to 30 people at his own "Dumpster Thanksgiving" feast in early December.
"We try to make it as fancy as possible," Redwood told The Huffington Post. So far, Redwood has found "fish (mahi mahi, tilapia and cocktail shrimp), chicken (wings and breasts) [and] cheese (about 10-15 wedges of handcrafted 'Blacksticks' blue cheese and brie)." In past years he has found "really large turkeys in the trash."
Jon Stepanian, organizer for the Long Island chapter of the activist group Food Not Bombs, plans to collect hundreds of discarded pies from supermarket trash cans this Thanksgiving. Like last year, he and his friends will go out on Black Friday to distribute the pies in high traffic area for a protest they call "Pies not Bombs."
"There's so much waste in our society," Stepanian told The Huffington Post. "It's a problem of businesses having to follow a model of over-consumption to compete."
Dumpsters tend to be especially bountiful over the Thanksgiving weekend mostly because there is so much food to begin with. Already-prepared turkeys and pumpkin pies don't sell very well once the holiday is over. While many supermarkets donate excess inventory to food banks, perishable goods are often still thrown away.
Stores do their best to plan and forecast efficiently for Thanksgiving. "There's definitely more inventory on hand over the holiday," said Maria Brous, Director of Media and Community Relations at Publix Supermarkets. "The last thing we want to do is to be unprepared for a customer."
Brous said Publix and other grocers are working hard to decrease their amount of food waste, both over the holiday season and year round. This year, Publix implemented a perishable recovery program in 66 percent of its stores, in collaboration with the nonprofit Feeding America which distributes food to 202 banks in the U.S. In June of this year, the Food Marketing Institute also launched an industry-wide Coalition on Food Waste to address the problem.
Traditionally, perishable foods like eggs, produce and meat have not been donated to food banks, as short shelf lives made it difficult to get items to mouths in a safe amount of time. Organizations like Feeding America are now trying to save more perishables with solutions like refrigerated transport trucks, Brous said.
Karen Hanner, the director of Manufacturing Partnerships at Feeding America, said supermarkets have gotten better at recovering food in the past 10 years. They've become more aware of the environmental impact of landfills, she said, and have been forced by a bad economy to carefully monitor their expenses and bottom lines.
Still, not all grocers have been as active in sustainability efforts. Trader Joe's, for one, is famous among dumpster divers for having the most lavish trash of them all. Trader Joe's does not currently have a national partnership with Feeding America, according to Hanner, but does donate on a store by store basis.
In an email, a Trader Joe's spokesperson told The Huffington Post. that the retailer "donates a majority of items that are not sellable."
But even the most eco-conscious grocer can't salvage smelly items like fish or pre-cooked turkeys.
"There are some items we can't donate," said Brous. "We don't want to put the at-risk population [who uses food banks] in more danger."
"They're very well intentioned," Karen Hanner says of those dumpster divers who take food salvaging into their own hands. "But they're missing the fact that the food may not have been handled in the right way for the client who eventually consumes it. It's very dangerous."
Lynn, who is trained as a chef and used to own a catering company, said she understands the perception that many have about dumpster diving, as it was once her own. "People are shocked to find out. They think it's for the homeless or for the down and out," she said.
But Lynn maintains that the practice has changed her whole outlook on life, as well as how her family celebrates Thanksgiving and Hanukkah. "We got rid of our car. We don't buy each other gifts. We've stopped over-consuming all together," she said.
When Lynn brings the homemade stuffing to her aunt's today, she hopes to finally tell her extended family about her hobby. "It's a little bit like like coming out of the closet," she said.
"People are judgmental. But once they taste the food I make they'll stop judging."
FOLLOW HUFFPOST