Another day, another trivial Beatles artifact up for auction. We've had the tooth, the drummer letter and the cardboard sign. Now we add arguably the most revealing of items -- the to-do list, belonging to one John Lennon.
The list is up for auction on Gotta Have Rock and Roll, a site devoted to the sale of rock and roll memorabilia that previously sold Lennon's Talisman necklace for $528,000. The to-do list comes with a comparatively moderate price tag -- the minimum bid stands at $3,000, and it's estimated to go for $4,000 to $5,000 when the auction opens Wednesday.
So what did Lennon deem list-worthy? Number one on the list was letting the H.B.O. guy in between 3-5 -- this one has a star next to it so it must be important. Number two was getting his Thor Heyerdahl book back from Sam Green -- with an X next to it so it's safe to say Lennon and the book were reunited. It's also safe to say that Lennon was a diligent list-maker, considering he changed pens to write the X in a satisfying, bright red. He lists more books, presumably to buy, putting back Sean's mattress, marmalade, making sure both cars have full tanks of gas, and other wonderfully mundane items.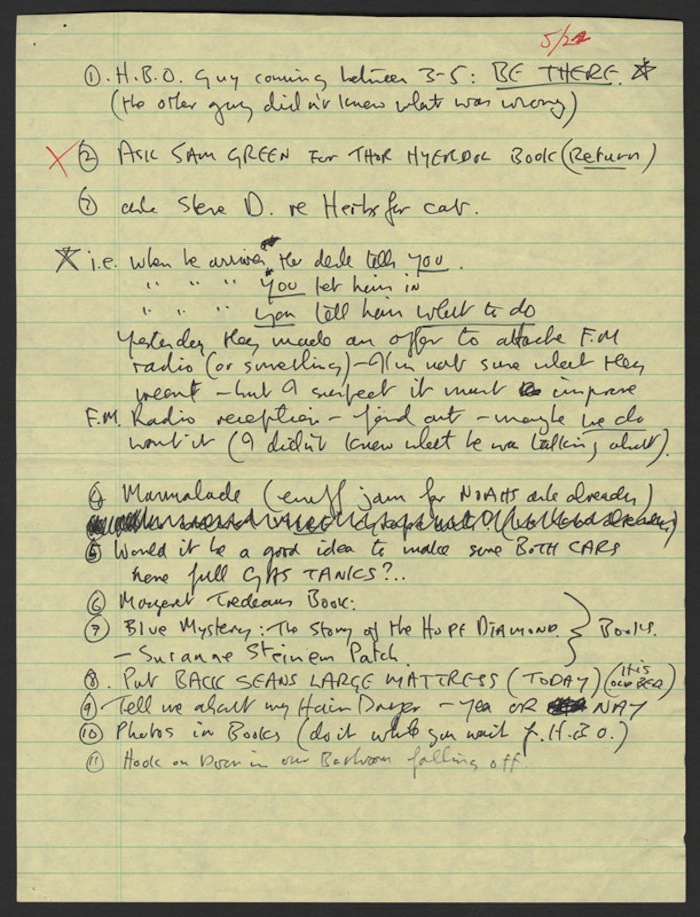 Check out our slideshow of The Beatles' recent pop culture domination:

This September, the New York City Ballet collaborated with Sir Paul to put on "Ocean's Kingdom," a ballet part "Little Mermaid," part "Avatar" that McCartney wrote and scored himself. The ballet told the story of an underwater kingdom in conflict with the human world above. Vague choreography killed it for audiences and critics, who reacted with polite dismissal, but McCartney's onstage bow was a hit.

Martin Scorsese's three-hour George Harrison documentary aired on HBO early this month. It was sugary and also revelatory, placing Harrison's determination to succeed commercially as a solo artist in the context of the fact that he didn't. And yet, the brief swing of focus onto Harrison must have seemed like acknowledgement a long time coming to fans of the quietest Beatle.

A week after the Harrison doc premiered, London's West End opened "Backbeat." The play tells the story of the Beatles' early days, and is based on a movie with the same title. Interestingly, the movie released in 1994, right around the time of the last Beatles resurgence, a year before the multi-part Beatles Anthology aired.

Last week, music movie veteran Michael Winterbottom ("Butterfly Kiss," "24 Hour Party People") announced he'd be directing a film based on Richard DeLello's book about the Beatles' falling out with Apple Records. The project will be produced by Oasis brother Liam Gallagher (DiLello's book is a favorite of Noel too, who reviewed it as "f*cking brilliant" when it came out), and seems to have shifted from plans a year ago for a movie primarily about Apple into a movie about the Beatles and Apple. No word yet on a release date.

On what would have been John Lennon's 71st birthday, Paul McCartney married his third wife, American heiress and trucking executive Nancy Shevell, at the same registry office he married his first, Linda. The AP reported "a hint of autumnal Beatlemania" inspired not from broken hearts, but "joy that McCartney, regarded as a national treasure and revered the world over, seemed happy again." Only three years ago, McCartney finalized his public and embittered divorce with Heather Mills.

Last week, Alicia Keys announced her charity, Keep A Child Alive, will host a tribute concert to George Harrison at its annual Black Ball this November, for "his philanthropic contributions to India." Usher, Norah Jones, will.i.am and Mary J. Blige are also set to perform.

The Beatles may be back, but the guard can still change. Since "I Wanna Hold Your Hand" broke the charts in the US in 1964, no other artist could claim the biggest selling album and single in both the US and England. This year, Adele looks poised to match it with her album 21 and the singles "Someone Like You" and "Rolling In The Deep."