Workers have begun to remove the iconic Yellow Pages sign atop the Michigan Bell building amid news that the building will be a new headquarters for the Neighborhood Service Organization, a group that offers services to Detroit's homeless and poor.
The sign, which was up for nearly five decades, will be dismantled in sections on Wednesday, and all of its pieces and materials will be recycled. NSO will keep part of the sign -- the telephone -- for its crisis hotline in the building.
The Bell building holds a spot on the National Register of Historic Places. Western Electric built the 255,000-square foot building in 1929 and used it as a warehouse, office and garage. For a time, phone books were printed at the location.
"We actually have a member of our staff who worked there when she was a teenager editing the White Pages," said Michelle Bosau, vice president of fund development and public relations at NSO.
She said the building had been abandoned for a number of years before it was taken over by the nonprofit Focus: HOPE, whose campus is down the street from the building. The nonprofit held on to the building for 10 years before selling it to NSO in April.
Because of its historic status, NSO will leave the building's facade, minus the sign, largely untouched.
In addition to offices, the retrofitted space will offer 155 one-bedroom housing apartments and services for formerly homeless individuals. Each apartment will include a refrigerator and a stove.
With an estimated 18,000 homeless in Detroit, Bosau said that NSO, which has been operating since 1955, hopes it will provide a new model for helping bring people in from the streets.
"We already have 80 people in permanent supportive housing that NSO helps currently, but they're kind of spread out," she said. "The idea is you get folks in a house, a place to live, and provide wraparound services to help them address the issues that got them homeless in the first place."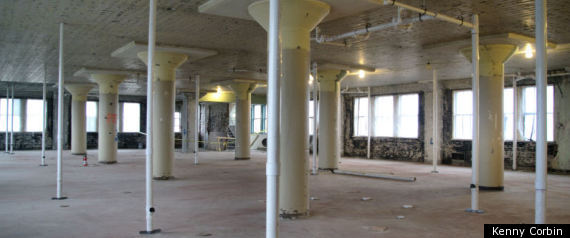 Two hundred people will work at the new headquarters, providing mental health and addiction services as well as administrative support. Case managers will help residents adjust and aid them in getting access to government benefits they may not know are available to them. The group is also partnering with other organizations to provide on-site primary health care and vocational training.
The project will be funded by a patchwork of donations and tax credits, including Section 8 housing. The organization has also developed ways to let individuals and groups in the larger metropolitan community help residents get adjusted to their new surroundings. This includes offering donors a chance to name each of the apartments for a $5,000 contribution and to throw a party for the new tenants.
"These folks are coming with essentially the clothes on their backs moving into one-room bedroom apartments," Bosau said. "They need things like dishes and towels and sheets -- the soft goods that make a house a home."
"We register each of the apartments at a local retailer, and once folks want to host a housewarming party, we change the registry over to them and they send it out to their friends and they have a party," she added.
NSO estimates the project will save as much as $5 million each year in "costs to society."
CLARIFICATION: NSO's Lauren Garfield-Herrin contacted HuffPost to note that an earlier fact sheet distributed by the organization contained an error. Based on the fact sheet, an earlier version of this article stated the apartments would include a garbage disposal, dishwasher, mini-blinds and a high-speed internet connection. They will not.