Courtney Love Says She's Lindsay Lohan's New Sober Coach: UPDATE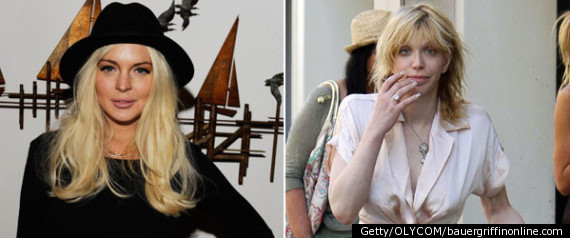 UPDATE: We knew Courtney had a habit of exaggerating, so we can't say we're surprised that Lindsay's rep, Steve Honig, told E! News, "Courtney Love is not, nor has she ever been, Lindsay's sober coach. Lindsay is, however, grateful for her friendship."
Of course! It makes so much sense, why didn't anyone think of it before? Courtney Love is the perfect person to help Lindsay Lohan get sober. Right?
Courtney has a habit for making things up or exaggerating, so we don't know for sure if we can take her claim of being troubled starlet, Lindsay Lohan's new sober coach seriously.
RadarOnline is reporting that in the December issue of Details magazine, the 47-year-old rocker claims Lindsay's drug problems are worse than her own:
"[She's] further down the line than I was" in her issues and says she's Lohan's sobriety coach, "because nobody else will."
The magazine spoke to Love (who says she's been sober since 2005) for an article titled, "High Sobriety," which according to Stylecaster, looks at how for the wealthy among us, who once prided themselves as serious partiers and boasted about their often reckless behavior, now see kicking bad habits as a rite of passage for everyone from "Hollywood players to New York power brokers," -- and Courtney Love counts herself as one of them.
Love gives the magazine an example of some of her coaching techniques she says she's used with Lohan:
"I went up to Lindsay's room one time and there was a show on called '101 Celebrity Oops' and I am like every other one, you know -- boobs out, legs everywhere, throwing sh*t at Madonna, you know whatever. I'm like 'LIndsay, look! Drugs are bad!"
You'd think Lohan's constant legal problems and repeated trips to rehab would teach her that drugs are bad, but maybe guidance from Courtney is just what the doctor ordered.
Love and Lohan apparently do have a relationship of sorts. Earlier this year, Love told the website, The Fix, about the time Lohan reached out to her:
"Lindsay Lohan called me after she was arrested. The judge presiding over her case was the same judge who presided over mine. He was a very sweet man. I think he was an ex-alcoholic himself. I told Lindsay to just get it together and trust the judge, and Lindsay's father called me for advice every day. I'm not even friendly with [Lohan and Kelly Osbourne]. What I am I, junkie Auntie Mame?"
Perhaps since then, the two have grown closer, but it seems like a case of the blind leading the blind.
Some have won and some have lost, but all of these celebrities have battled addictions:

Loading Slideshow
Robert Downey Jr.

After years of struggling with cocaine and heroin addiction and serving jail time, the actor is clean and sober.

Amy Winehouse

Singer Amy Winehouse was found dead in her London home on July 23, 2011. The 27-year-old singer's life was cut short due to accidental alcohol poisoning. <em>CORRECTION: In an earlier version of this slideshow, the date Ms. Winehouse died was incorrect. She died on July 23, 2011.</em>

Lindsay Lohan

The 25-year-old actress has spent the last five years in and out of rehab and still stuggles to stay sober today.

Charlie Sheen

In February 2011 Charlie Sheen claimed he was clean of drugs and alcohol, but high on himself. The actor has publicity struggled with addiction for years, but many doubt his claims of sobriety.

Drew Barrymore

Drew was famously an addict as a child. By her own admission she said she had her first drink at 9, began smoking marijuana at 10 and began using cocaine at 12. By age 13 she entered rehab and has maintained her sobriety since.

Robin Williams

The comedian overcame a cocaine addiction, but headed back to rehab after 20 years of sobriety in 2006 to address his issues with alcohol.

Fergie

The Black Eyed Peas singer kicked a crystal meth and ecstasy habit.

Heath Ledger

An accidental overdose of prescription medication killed the actor on Jan. 22, 2008.