Homemade Gift Ideas: Handmade Sewn Craft Card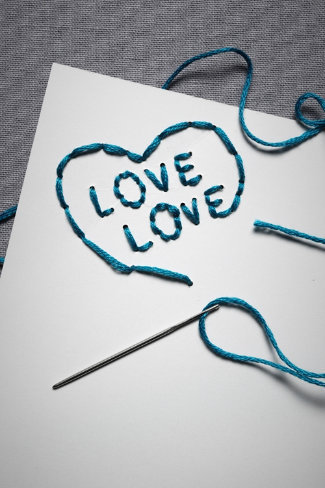 Photo by BHLDN
Ben Franklin's quote may be 'When in doubt, don't,' but we say when in doubt, sew! You may have thought sewing was only meant for fabrics, but a needle, thread and some sturdy paper can make one very crafty holiday card. It's not only simple, but we especially love the no glue, no paint and no mess aspect of this card.
What You'll Need To Make The Card:
A blank card (or folded card stock)
How To Make The Card:
1. Print or draw a stencil and tape it to your card.
2. Using a thick needle, punch through the stencil and card to make holes.
3. Remove the stencil and simply sew through the holes like a connect-the-dots.
For more handmade craft card ideas, check out this owl card and this one made from cardboard.
And for extra credit, learn a new stitch! This video will show you how.