New TV Show 'Scouted' Discovers Aspiring Models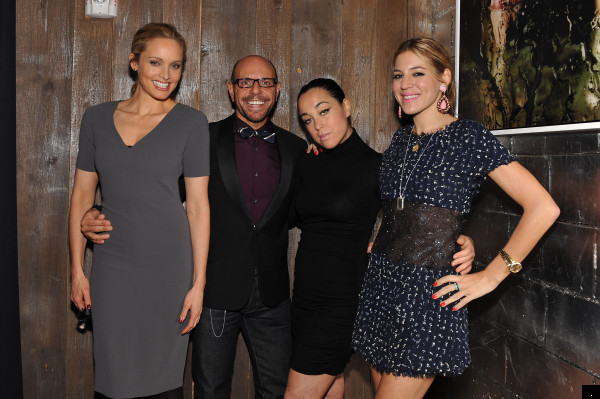 Model Beri Smither, Scouting Executive Michael Flutie, Fashion Casting Director Julia Samersova and Nylon Style Editor Dani Stahi, at the 'Scouted' Premiere Party at the Electric Room at Dream Downtown on November 28, 2011 in New York City. (Getty Images)
"Scouted," a new show about discovering aspiring models for New York's One Management might not follow the standard structure of a competitive reality TV show, but that doesn't mean it won't be compared to them. Before the show premiered on E Monday night, Michael Flutie, a model scout with 20 years of experience under his belt and the creator of "Scouted," admitted that he is sort of the show's Simon Cowell: "I think he is the closest that I would come to, because he truly speaks his voice. I tell it the way it is. I'm either going to be myself and people are gonna like me or not. Everybody that has seen the show has actually said, 'You know what, you come off as very authentic.'"
Model Beri Smither, on the other hand, relates to a much more likable character: "Tim Gunn of 'Project Runway,'" as she is there to mentor the show's fresh young talent, "In the genre of modeling, 'Scouted' is very authentic and it describes the true process of discovering a girl, developing her and getting her to sign versus a big competition with prize money. You're watching her whole process and then watching her in the word in fashion." Smither should know, the Oregon-native was discovered by a small agency in Paris before making it in New York.
Both Flutie and Smither had advice for anyone hoping to become a model. Flutie exclaimed, "For anyone that's starting out, my main tip is to always look at it as a profession, because that's what it is. Please look at it as a business; please treat it as one. Also, always listen to your management. Don't make a stink or take the reins in your own hands and think you know. Be teachable. And also, stay true to yourself." Smither agreed, "Take care of yourself, take care of your body." Is that even possible in the holiday season? "For Thanksgiving, I went out with my friends and ordered lobster! I work right around that stuffing and turkey, it's not worth it. I don't know, treat holiday feats like any other meal. Are you gonna gorge yourself ever? I don't think so." In case you do, ahem, overindulge during the holiday, Smither gave us her secrets for staying fit: "I'll do five months of spinning and weight training and then I'll get bored of that and do five months of running, like 15 miles a week and breaking that up. I also have a playlist on iTunes called 'Modeling Music.' That's something that's so crucial as a model. When you're shooting and you don't have good music, it's very challenging. I just need it to get my body loose."
Aspiring girls, listen up, as we learned from the show's first episode 38 inch hips will only get you a "next" in this industry.
CELEBRITY RELATED LINKS YOU MAY LOVE: