In Chef Robl&eacute's kitchen there are no recipes, no signature dishes and definitely no crying when things heat up. It's a formula that has worked for the 26-year-old chef, landing him coveted spots on New York's restaurant and catering scene and, most recently, a show on Bravo TV that chronicles the launch of his company, Robl&eacute & Co.
Part Somali and part African-American, with influences from Poughkeepsie, N.Y., and Houston thrown in, Robl&eacute's roots make for an interesting approach to food. (He notes that no part of his professional rearing involves hip-hop, a term that's been used to describe his catering style.) But it was his grandfather who he says truly informed his decision to pursue life as a chef.
"My grandfather ... Jessie Harris ... was a professional chef. He worked in catering [and] catered an event for John F. Kennedy, one of his proudest moments," Robl&eacute says. "He was an awesome dude, and I think, subconsciously, he inspired me to end up being a chef."
(Robl&eacute dug up this photo of his grandfather at work in a kitchen in Poughkeepsie around 1966.)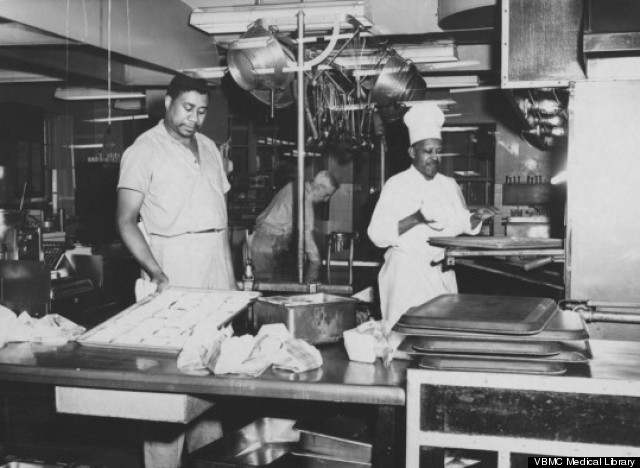 Familial ties aside, however, and Robl&eacute stands apart from other chefs. Which isn't to diminish their culinary credibility (he balks at the idea of even being compared to "master" chef, Marcus Samuelsson), but having shadowed notable gourmets such as Abigail Kirch and Chris Santos aren't experiences many others can claim. Neither is using those experiences to build an A-list clientele and a unique culinary point of view, all by the age of 26.
"I was catering parties when I was 18!" Robl&eacute says, though he admits running a business of one's own is an entirely different game. "I knew I had to make a move at some time, but it's not easy. Money is always an issue ... then you're wearing more than one hat. You're not just the chef anymore. You're the owner, the operator, the comptroller ... I'm HR, too, right now," he says.
Wearing the HR hat, Robl&eacute hired his older sister, Jasmine, to oversee the company's business and creative end while he tends to the exacting requests of his celebrity clientele, requests that he says make it impossible to bring a speciality or standing menu to the table.
"In my brand of catering, it's about being resourceful. I sit down and I consult with my client and whatever they want me to do, I will do. I'll figure it out," he says. Even if "figuring it out" means coming up with an entire menu around three colors -- red, black and white -- as one client requested during the taping of the show.
At home on Sundays, however, Robl&eacute is liable to fall back on dishes he is familiar with, including traditional Somali cuisine such as the deep-fried, meat-filled snacks known as sambusas (a cousin of the Indian samosa and one of the only recipes Robl&eacute's actually written down).
The handheld eats are similar to the "social food" he says we'll see him create on the show, a trend he picked up while working at New York's Avenue lounge where "there isn't a knife or fork in the building."
Take a peek at some of Robl&eacute's other culinary musings (or "food porn," as he calls it), which he documents on his blog, Bleezie's Playhouse.
Chef Robl&eacute's Sambusas

Curried Rice Pilaf (Stuffing)
Ingredients
1 tablespoon canola oil
1 cup chopped onion
1 teaspoon curry powder
1 teaspoon chopped garlic
1 cup rice
2 cups beef stock
Salt and pepper

How-To
In a medium saucepan, heat oil and cook onion, curry powder and garlic until tender. Add rice and beef stock. Stir well. Bring to a boil, cover and reduce the heat. Simmer for 15 minutes or until the rice is tender. Season to taste with salt and pepper. Place the rice into a medium to large bowl, where you will mix with your curried beef to complete your Sambusa stuffing.

Curried Ground Beef
Ingredients
1 tablespoon canola oil
Canola oil for frying
1 pound ground beef
1 cup chopped onion
1 teaspoon chopped garlic
1 teaspoon curry powder
1/2 teaspoon cumin
Egg roll wrappers
Salt and pepper

How-To
In a saute pan on medium heat, cook 1 tablespoon canola oil, garlic, curry, cumin and onions until tender. Turn the heat up to high and add the ground beef. Cook the ground beef fully, stirring throughout the process, which will take approximately 8 minutes. When the beef is fully cooked, season to taste with salt and pepper. Remove any excess liquid and combine with the rice, mixing well.

Assembly & Frying
Have a small amount of water handy. The water will serve as an adhesive to seal up your sambusas. Take an egg roll wrapper and place it on a work surface in the shape of a diamond. Use your finger to wet the lower right-hand side of the wrapper with water from corner to corner. Fold the wrapper, right corner to left corner to form a triangle. Press along the lower left side of the triangle to seal from corner to corner. You have just created a cone. Pick up and stuff your cone with the stuffing using a tablespoon and being careful not to over-fill. Use the water to seal up your sambusa once stuffed by folding over the unused part of the wrapper. Repeat this process until you have used all of your stuffing. Heat frying oil to 360 degrees and fry in batches until golden brown. Serve with hot sauce and enjoy.
SUBSCRIBE AND FOLLOW
Get top stories and blog posts emailed to me each day. Newsletters may offer personalized content or advertisements.
Learn more