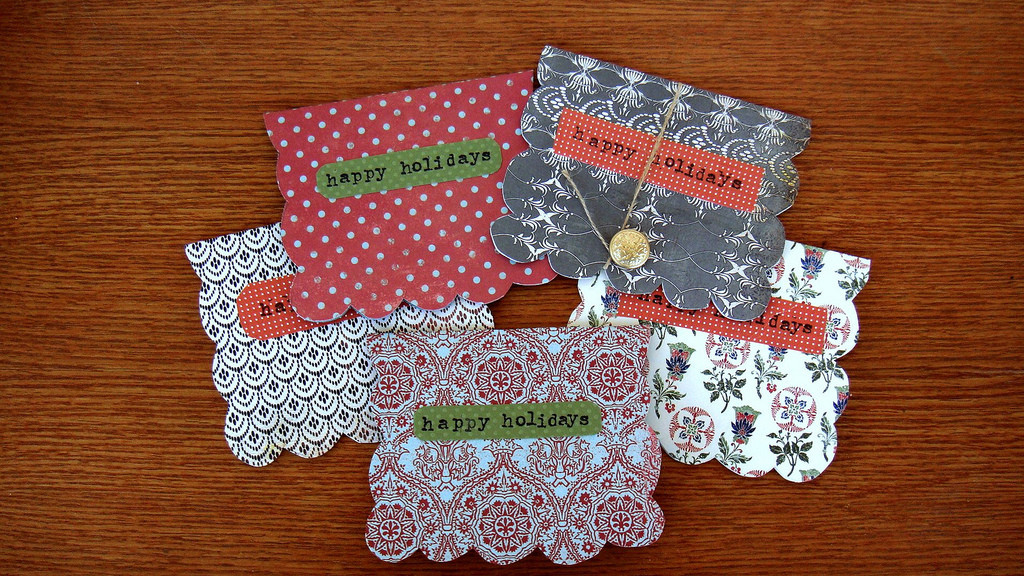 Flickr Photo by Amy Gizienski
Picture this: you're sitting at your crafting table creating homemade cards and it just looks like something is missing, so you add ribbon, then a button, then maybe a sticker, and soon enough the entire thing is covered. We've been there too! It's easy to fall victim to embelish-mania, but simple is often better, which is why we love this holiday card. Keep reading for the how-to if you're ready to test your self-control.
What You'll Need:
Decorative blank cards (or card stock)
Holiday colored card stock
Scissors
Glue
Printer
How To Make It:
1. Type 'happy holidays' in your word processor and choose a fun font. Copy and paste the phrase so you have as many as 10-14 on one page.
2. Print onto your holiday colored card stock.
3. After the ink has dried, cut out the the phrases.
4. Now, turn to your decorative card (or fold decorative card stock into a card) and free-style cut squiggly edges.
5. Glue 'happy holidays' onto the card.
If you can't resist a little embellishment, try sewing on a message like in this fun handmade card.
SUBSCRIBE TO & FOLLOW LIFESTYLE
We're basically your best friend… with better taste. Learn more