Have you seen this missing dog in Astoria, Queens New York? Hopefully not, as it looks like unsuspecting Astorians wouldn't survive an encounter.
According to the funny (terrifying?) missing dog poster, this friendly pooch is a hybrid breed of Gray Wolf-Anatolian, Shepherd-Irish Wolfhound, Dingo, Jackal, Coyote, Red Fox, German Shepherd, Saint Bernard that answers to "Killer" and is "irate at times".
Awesome.
These posters were plastered on the corner of Broadway and 31st Street in Astoria on the first weekend of December. An attempt at a little holiday humor for sure. Though the owner "Drew" did say Killer has been missing since November 27, 2011 and left a contact phone number.
Here's hoping either he or animal control finds this impossible breed of dog death on legs before it devours any innocents silly enough to cross it's path.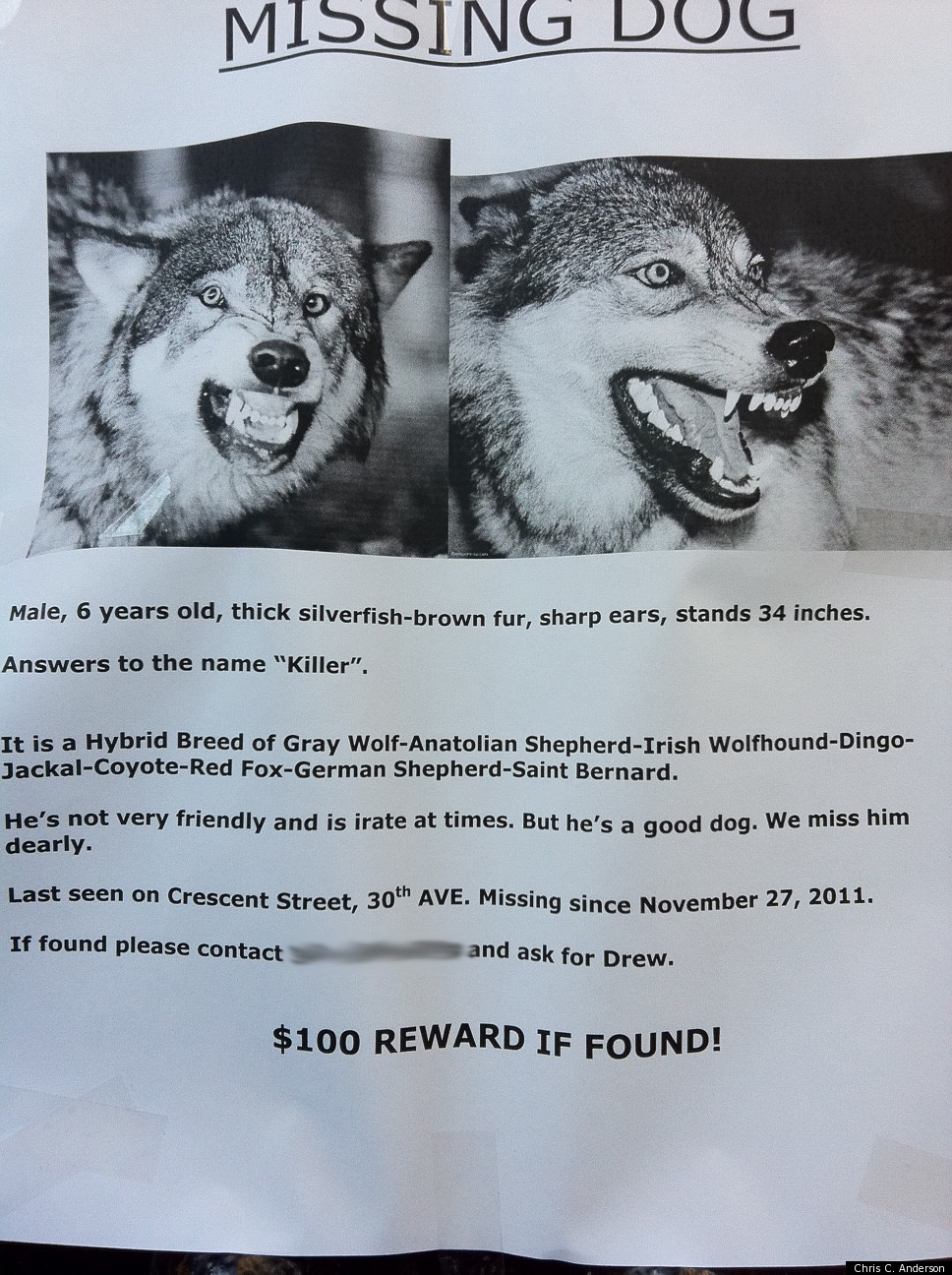 Here are some more hilarious missing pet signs.
Most Ridiculous Missing Pet Signs
Clearly the most popular dog on the block.

If the author of this has in fact tasted this dog, then it seems that the only purpose of this sign is to rub it in the face of the owner.

Not only are his priorities out of whack, but what "information" is required? When the wife and dog are found, do they have to fit a description to be claimed? Is there another wife/dog combo on the loose? We want answers!

Wait, this isn't how missing pet signs work.

Don't worry. If you find this tortoise, there will be no questions about what went on when it was in your possession.

Look at it. Go ahead. Just look. Yeah, that's a good-looking dog. Sure he's not lost, but quite frankly, it'd be weird if his owner didn't brag about him.

Boomer's such an adorable name. A name he'll never get to hear.

Sir, if you're going to defy the accepted norms of society by owning a pigeon, at least have the decency to name it.

This person has not only decided the sexuality of this dog, but has fashioned the sign after a "Wanted" poster. This dog's gay. And he's dangerous.

Perhaps "Cat Found" has a nicer ring to it than "Chubby Rat Found." Or perhaps this person does not know what a cat looks like.

WhatTheHolyHeck:Something tells me there's not an actual lost pet in the mix here.

bparker727:Not sure whether this person really wants to get their pet back, or just reveal their downfalls to the community...