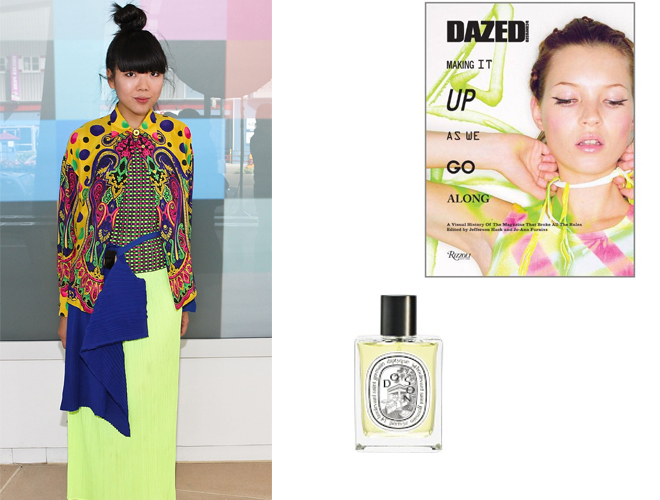 Getty
Susie Lau (a.k.a. Susie Bubble), the mind behind Style Bubble, is known for her fresh eye for fashion and an eclectic wardrobe that has made her a street-style fixture. Here, she shares what's been on her style radar lately.
What's the last thing you bought that you loved?
A lovely vintage cardigan from Pelicans and Parrots in Dalston [in London], one of my fave vintage stores.
If you could have one superpower what would it be?
Supersonic hearing. I'm nosy like that.
What's the last song you downloaded?
New M83 album.
What was your first designer purchase?
A Vivienne Westwood suede bag that I saved up for ages for when I was at university. I waitressed on Saturdays at football clubs to get that bag!
Facebook or Twitter?
Twitter.
What trend do you hope dies?
The trend of the trend.
Minis or maxis?
Minis.
What item do you wear every day?
My wig-like hair.
If you had to wear clothes from one decade only, what would it be?
The '00s: the decade where previous decades are available to you, and more.
What's on your nightstand?
My glasses which I fumble for in the morning... and Dazed & Confused's 20th Anniversary book.
What was your first job?
Waitressing at Ascot.
What's your signature scent?
I switch between Diptyque Eau Mage and Byredo's Fantastic Man.
What literary character would you be?
Some insufferably shrill character from a Nancy Mitford book.
Who would be your ideal shopping buddy of all time?
I prefer to shop alone, but my boyfriend is pretty good as a shopping partner in crime.
What's the last thing you read?
"The Paris Wife," by Paula McLain.
If you could only shop in one store for the rest of your life, what would it be?
Liberty.
Ideal holiday vacation destination?
A cross-country trip across the USA!
FASHION RELATED LINKS YOU MAY LOVE

Out With The Old, In With The eBay: The Best How-To Tips - Refinery29

Michael Kors's Pre-Fall Collection Includes Cowhide and Cowboy Hats - The Cut

20 Peter Pan Collars We Love - Lucky

Would You Wear this Dsquared2 'Vest Belt'? - Racked

Cute, Sensible Ankle Boots That Won't Hurt Your Feet - The Gloss