Android App Sale: Popular Apps Available For 10 Cents Each For 10 Days
The Android Market just notched its ten-billionth app download, and to celebrate, Google is offering up to 100 of its most popular apps for ten cents each for the next ten days. Ten new apps will be added each day, from now until December 16.
The apps that are on sale for ten cents on the first day of the promotion, with links to each, are:
Each of these apps will be available in the Android Market for ten cents (or 0.10 pounds, or 10 cents Canadian) until December 16.
Google announced the ten billion app milestone on its Android Developers blogspot page while also dropping the bomb that Android users are now downloading one billion apps per month. A graph provided by Google's dev team shows the exponential growth of Android app downloads since the platform launched in 2008.
LOOK: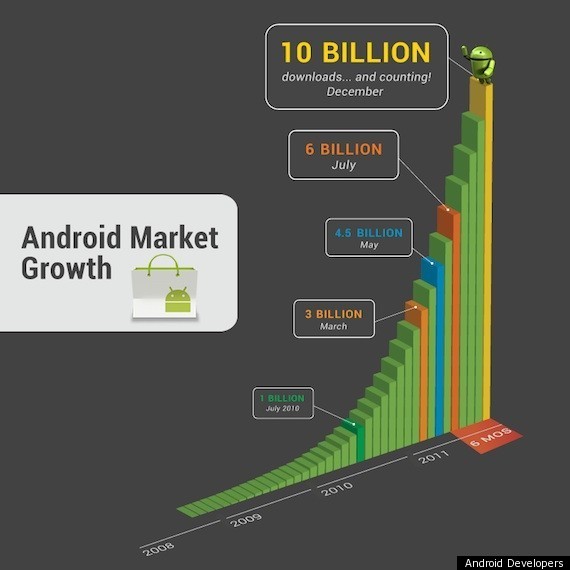 Android app downloads aren't the only things that have exploded lately: Mobilewalla recently announced that the number of available apps across ALL platforms will soon pass one million; an estimated 320,000 of those are in the Android Market (Google has not yet released an official count), and almost 600,000 in iTunes. BlackBerry and Windows Phone make up a little less than 100,000 apps combined.
However, Android's malware problem is also an exploding one. As the platform has grown, the amount of malicious software invading the platform has risen, too. In fact, the research division of Juniper Networks recently called Android's problem a "malware epidemic," and a study by Bit9 found that nearly all of the year's most vulnerable smartphones were running Google's Android software.
Android's huge app market, for the time being, is in celebration mode, and the Android team's blog post ends with a reminder that 90 more paid apps will become available for ten cents over the next ten days. Those deals will be announced on the Android Market homepage, so if you have one of the 200 million Android devices out there, you might want to keep the Android Market in your mind as Google rolls out more sales.