As the 2012 presidential election heats up, both parties are pushing hard in congressional and gubernatorial races across the country. While Republicans work to regain control of the Senate, Democrats are vying to pick up seats in the GOP-controlled House. Below, a rundown on election news happening beyond the presidential field.
DSCC DOESN'T WANT SENATE PRIMARY BATTLES
Sen. Patty Murray, chairwoman of the Democratic Senatorial Campaign Committee, threw her weight behind a handful of Democratic candidates running in close Senate primaries around the nation. In the same speech Tuesday, the senior senator from Washington optimistically described the Democrats as "well-positioned to keep the majority" in the upper chamber next year.
Murray endorsed Rep. Mazie Hirono for the open Senate seat in Hawaii over primary rival Ed Case. She also backed Rep. Christopher Murphy in Connecticut over former Connecticut Secretary of State Susan Bysiewicz. The chairwoman notably did not pick a candidate in the New Mexico primary race, which pits Latino candidate Hector Balderas against Rep. Martin Heinrich. She made special mention of the 11 women running for Senate, saying they could really change the dynamic there.
Murray also commented on the drawn-out silence of Nebraska Sen. Ben Nelson, who still hasn't said if he'll run for reelection for a Senate seat that would be difficult for Democrats to hold if he retires. "He's going to be deciding here in the next few weeks," she said.
CANDIDATE SNAGS PAUL RYAN ENDORSEMENT
Rep. Paul Ryan (R-Wis.) endorsed former Rep. Pete Hoekstra for the GOP nomination in Michigan's Senate primary. Hoekstra has also picked up endorsements from other conservative politicians, including Minnesota Rep. Michele Bachmann, Ohio Gov. John Kasich, Pennsylvania Sen. Pat Toomey, Michigan Gov. Rick Snyder and Iowa Rep. Steve King. Hoekstra is vying with Clark Durant, co-founder and former CEO of the Cornerstone Schools, for the chance to challenge Democratic incumbent Debbie Stabenow in what's expected to be a very close Senate race.
Deeming the pseudo-controversy "Picturegate," Ohio Democrats say a new TV attack ad against Sen. Sherrod Brown, who's up for reelection next year, alters a photo of the senator in such a way that it falsely represents him. The photo (below) was changed from color to black and white, and Democrats claim it makes Brown look haggard and unshaven. They also contend the ad misrepresents one of Brown's votes, lumping this offense into other accusations of false representation by Brown's Republican opponent, Ohio state Treasurer Josh Mandel. The ad was paid for by the U.S. Chamber of Commerce.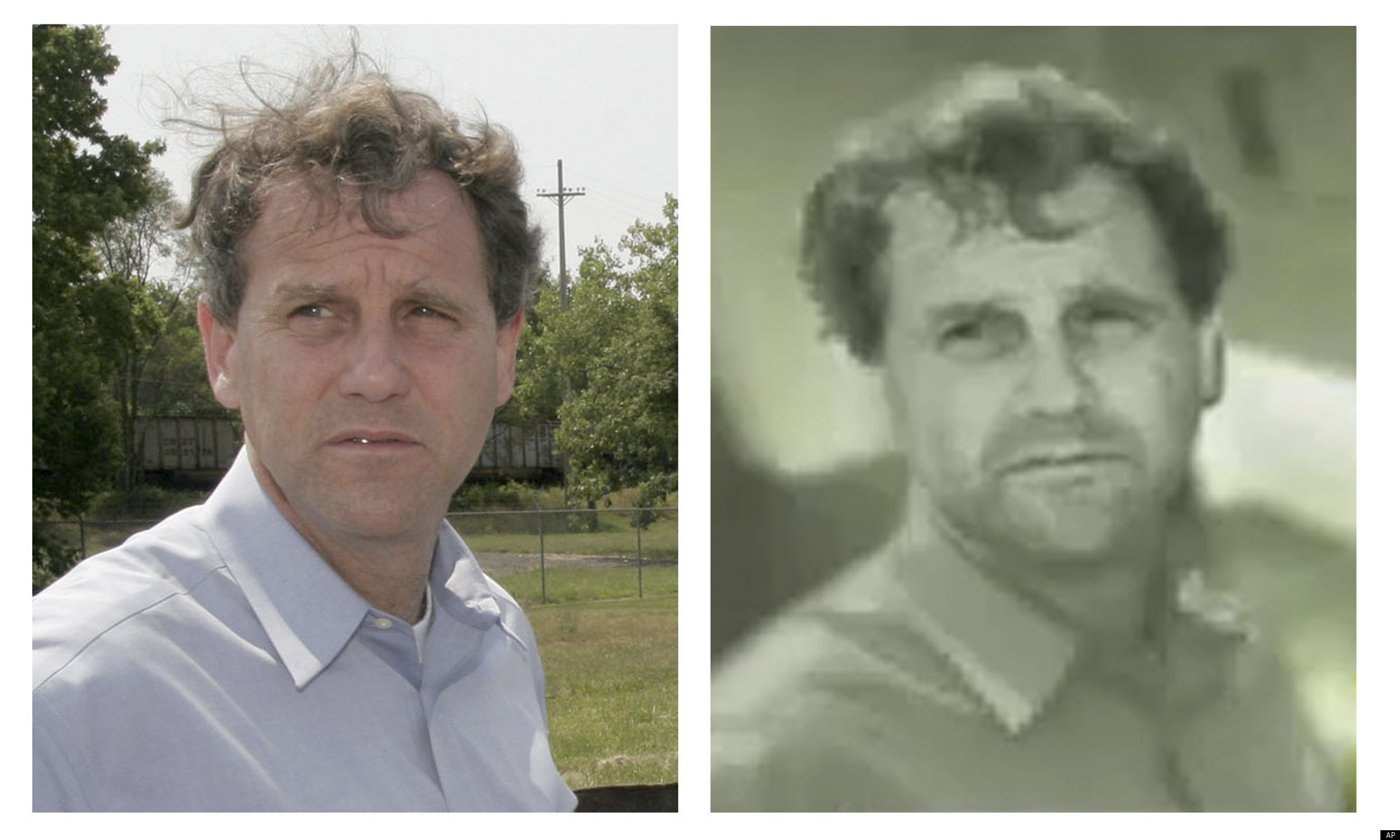 -------------------------
Virginia Tea Partiers are protesting Wednesday's debate between two big-name Senate candidates: George Allen, the former senator, and Tim Kaine, the onetime governor and former chairman of the Democratic National Committee. The protesters rallying outside the state Capitol are protesting the exclusion of other primary candidates, who haven't reached the 15 percent polling or fundraising numbers required to participate.
A recent poll by Maine-based Pan Atlantic SMS shows Republican Senate incumbent Olympia Snowe with a whopping 74 percent favorability rating. The poll finds nearly 64 percent of respondents believe Snowe should win reelection next year. The senator faces challenges from Tea Party-backed candidate Scott D'Amboise, who is hoping to paint her as a too-moderate "Republican in name only."
A new PPP poll finds Montana's gubernatorial race nearly in a dead heat, making it the closest in the nation so far. Likely Republican nominee Rick Hill leads likely Democratic nominee Steve Bullock by one point, 39 to 38 percent. PPP surveyed 1,625 Montana voters.
Sen. Dean Heller (R-Nev.) has announced his support for a proposed national American Latino museum. Heller and his Democratic challenger, Rep. Shelley Berkley, are courting the all-important Latino vote in the race for Nevada's Senate seat. Heller recently took heat for calling off a meeting with Latino leaders in Las Vegas. Berkley's outlook appears more sunny. She's been endorsed by Senate Majority Leader Harry Reid (D-Nev.), whom Latino voters overwhelmingly supported in 2010.
Sen. Barbara Boxer (D-Calif.) made her pitch to the political action committee EMILY's List at a fundraiser for Democratic female senators up for reelection. Boxer said the Republican Party has waged a "war on women," citing GOP positions on family planning, infertility treatment and clean air regulations that protect pregnant women. EMILY's List backs female candidates who support abortion rights. The group has already thrown its muscle behind challenger Elizabeth Warren, running for a Senate seat in Massachusetts (campaign ads bought by the PAC will be airing soon); Rep. Tammy Baldwin, running for the Senate in Wisconsin; and Rep. Shelley Berkley, running for the Senate in Nevada. Boxer was joined at the fundraiser by several Democratic colleagues -- Sens. Debbie Stabenow (Mich.), Maria Cantwell (Wash.), Amy Klobuchar (Minn.), Claire McCaskill (Mo.) and Kirsten Gillibrand (N.Y.).


SUBSCRIBE TO & FOLLOW TRUMP'S FIRST 100 DAYS
How will Donald Trump's first 100 days impact YOU? Subscribe, choose the community that you most identify with or want to learn more about and we'll send you the news that matters most once a week throughout Trump's first 100 days in office. Learn more