Food Informants is a week-in-the-life series profiling fascinating people in the food world. We hope it will give you a first-hand look at the many different corners of the food industry. Know someone who would make a great Food Informant? Tell us why.
John T. Edge writes a monthly column, "United Tastes," for the New York Times. He is a contributing editor at Garden & Gun and a longtime columnist for the Oxford American. His magazine and newspaper work has been featured in eight editions of the Best Food Writing compilation. He has been nominated for five James Beard Foundation Awards, including two M.F.K. Fisher Distinguished Writing Awards. Edge holds a master's degree in Southern Studies from the University of Mississippi. He is director of the Southern Foodways Alliance, an institute of the Center for the Study of Southern Culture at the University of Mississippi, where he documents, studies and celebrates the diverse food cultures of the American South.

Edge just finished a new project, a cookbook and travelogue that catalogues modern American street and truck food. That book will publish in the spring of 2012. He lives in Oxford, Mississippi, with his son, Jess, and his wife, Blair Hobbs, teacher, and painter. Check out his website here.
Read John T. Edge's diary below to learn about cement pickles, pig wings and more.
Thursday, November 17: Oxford, Ms. to Bluffton, Sc.
7:20am: Breakfast of four mini freezer biscuits, stuffed with sausage, topped with cheddar, eaten from a crumpled pouch of tin foil while driving north to Memphis airport.
11:45am: Colleague on plane, reading the book "Beautiful Swimmers," says, when asked how she likes the book, "I'm learning how to sex a crab."
1:30pm: As pilot banks plane hard and we land with a thud in Savannah, Ga., the guy behind me coughs into what will become my bald spot.
3:00pm: Munching from a paper bag of Wendy's sea salt fries, we pull into Palmetto Bluff for annual Music to Your Mouth weekend.
3:10pm: Impossibly beautiful row of live oaks along entrance to PB begs the question: Do they bring in extra Spanish moss and hang it from the boughs when guests aren't looking?
7:15pm: At dinner cooked by Chris Hastings (Hot & Hot Fish Club) and Mike Lata (FIG) dude from Chateau Beauscatel trills his r's and boasts of 13 different grapes in his red. I drink along.
Friday, November 18: Bluffton, Sc.
9:45am: MTYM continues. Breakfast by the fire pit with pitmasters Rodney Scott (Scott's BBQ) and Nick Pihakis (Jim 'N Nick's BBQ) as they stoke hogs with hot coals. Bloody Marys hit the mark.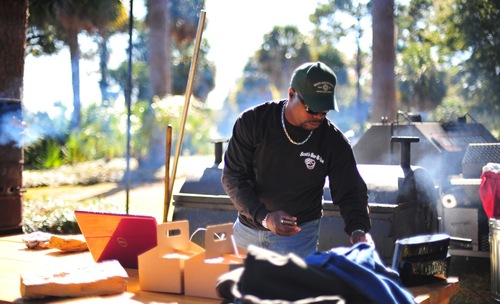 10:00am: During cooking demo with Jeremiah Langhorne of McCrady's Restaurant, he cooks laurel-aged Anson Mills rice that blows my mind and palate. He cracks open a house-cured two-year-old ham, too. Asked about benne plants, he says they look like "okra plants that have grown amok."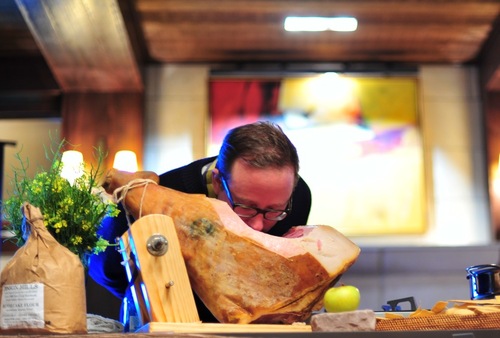 1:15pm: Waiting for lunch, pit side with Rodney and Nick, as "Shake Your Booty" blasts on the boom box, we sit, water to our backs, talking rice cooking technique.
2:30pm: Trey Dutton of Palmetto Bluff from comes by the pit with his Grandma's "cement pickles." Firm, like concrete, they taste like something other than concrete. Crazy great actually.
5:35pm: MTYM shows two Southern Foodways Alliance films, including the Joe York-directed "Ride that Pig to Glory." In discussion afterword, pig farmer Emile DeFeice, subject of film, segues into talk of porcine sex and says, "Pigs like to get their freak on."
9pm: From the bar, I drink my fill of Hirsch Vineyards pinot noir with a kitty cat on label. From the buffet, I snag grouper tacos with green tomato relish.
12am: Late night drinks. Fernet Branca in a shot glass. Then grower Champagne. Then moonshine from a jar. The usual progression.
Saturday, November 19: Bluffton, Sc.
10:45am: MTYM continues. Fat and Juicy brand bloody Mary. Guy who makes the stuff pushes one on me. I am a push-over.
11:00am: Billy Reid has a pop up store, set up on the tailgate of a pickup. Please tell my wife, Blair, that I covet that corduroy green hunter's jacket.
3:00pm: After drinking a beautiful Chardonnay from Lioco and eating three helpings of meringue-crowned banana pudding from Bill Smith (Crook's Corner) I head for a nap.
3:20pm: Nap averted. On the way back to my house, I come upon a crazed bunch of wine makers and sommeliers, including Jasmine Hirsch (Hirsch) and Rajat Parr (RN74). They are sabering the tops from magnums of Champagne and eating boiled peanuts.
4:00pm: Between bites of boiled peanuts I meet Mike the fishermen. He calls chefs who are not willing to take chances "menu stricken." Brilliant. Mike also tells me that amberjack have parasite worms. I ask, Can we eat the worms?
9:00pm: We board trolleys, bound for a castaway encampment, where Trey Dutton -- the fellow with those cement pickles -- is shoveling oysters onto a flattop that swivels, on a truck hitch, over a roaring wood fire. Steamed beneath a wet burlap bag, each batch takes a minute or so.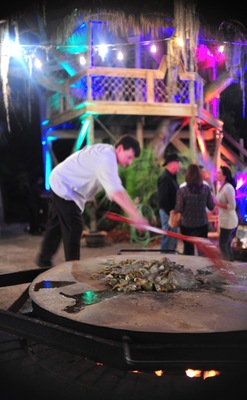 10:35pm: In conversation, Mike Lata tells that, on a recent road trip, he listened to a book-on-tape of "Lolita," read by Jeremy Irons. Smart guy. Not sure what to do with that info.
Sunday, November 20: Bluffton, Sc. to Oxford, Ms.
11:15am: On the road home, a small victory: the Delta A concourse Crown Room in Atlanta has Byrd's cheese straws, made in Savannah, in big jar on bar. Beats the hell out of the Kibbles and Bits at most airport lounges
1:35pm: Try to use ATM card. Declined. As if the bank knows I am hungover and is working in complement with the little demon in my head who is, right this very moment, attacking my cranium with a ball peen hammer.
3:20pm: Arrive back home in Oxford, to find my bank account overdrawn, and our home wireless network down. I restart the computer, transfer funds, claim the mantle of hero.
4:30pm: Jess, my son, and I throw the football. He runs tight patterns. I overthrow every time. He forgives me.
6:30pm: Blair makes white chili for dinner. She goes heavy on the cumin, the way I like it. We toast some of the Bosnian bread she's been baking lately. (When I wrote a piece on Bosnians in St. Louis for my United Tastes column in the New York Times, Blair developed the recipe.)
Monday, November 21: Oxford, Ms. to Greenwood, Ms.
6:15am: Up early to edit down a NYT piece on pig wings, the next great offal makeover product. Also need to begin work on a piece for Garden & Gun, about Rocky and Carlo's, a Sicilian-Creole cafeteria that serves refinery workers in Chalmette, LA.
9:35am: It goes well. Until it doesn't go well. I do predictable things, like curse at my laptop and crumble sheets of paper.
10:15am: Instead of working to make my own writing better, maybe it will be more satisfying to slice and dice work of others. The next issue of Gravy, the SFA's zine, edited by Sara Camp Arnold, is in pretty good shape. Only slicing needed. No dicing.
11:10am: I love my iPhone. I hate my iPhone. My iPhone senses my disloyalty and quits working. Nice people at Apple talk me into swiping the phone clean and restoring it as new. That works. Kind of.
11:30am: Drive south to Greenwood in the Mississippi Delta to meet with friends at Viking Range, and for lunch at Delta Bistro. The chef, Taylor Bowen Ricketts, used to live around the corner from us in Oxford.
1:30pm: Woozy from a one-two punch lunch -- of minestrone, threaded with sweet potato greens that were harvested in Mound Bayou, and muscadine-glazed duck breast served with Brussels sprouts -- I drive for home.
4:30pm: Coming out of the flatlands, crossing into the hills, I tune into a soul blues station. The DJ is talking about cleaning chittlins and peeling sweet potatoes for Thanksgiving. I flash forward to my father's house in Macon, GA, where we'll go later in the week. When I call my father to check in, he's unpacking a box of ham he ordered from Nancy Newsom. Good man, my father.
See more Food Informants below:
SUBSCRIBE TO & FOLLOW THE MORNING EMAIL
The Morning Email helps you start your workday with everything you need to know: breaking news, entertainment and a dash of fun. Learn more