Jerry Sandusky Bail: Former Penn State Coach Out Of Jail After Posting $250,000 Bail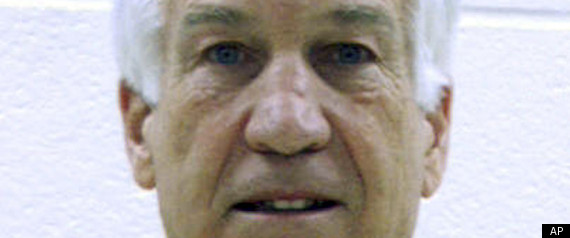 By MARK SCOLFORO and GENARO C. ARMAS, The Associated Press
BELLEFONTE, Pa. -- Former Penn State assistant football coach Jerry Sandusky emerged from an overnight jail stay Thursday after posting bail on new charges that he sexually abused two additional boys, including one who said Sandusky assaulted him in his basement while his cries for help went unheeded.
Sandusky was driven from a Pennsylvania county jail to his home in the back seat of a grey sedan in the middle of a three-car convoy. The former coach kept his gaze straight ahead, clutching a manila envelope, during the short car ride.
He then went inside without answering questions from reporters.
Sandusky was arrested Wednesday and charged with 12 new child sex abuse counts involving two new alleged victims. In all, he faces more than 50 charges. He has maintained his innocence.
Sandusky secured his release using $200,000 in real estate holdings and a $50,000 certified check provided by his wife, Dorothy, according to online court records. He will be subject to electronic monitoring under the terms of his release.
Warden Edward DeSabato said Sandusky was quiet and cooperative during his stay at the jail, where he was one of the roughly 250 being held. Sandusky had his own cell for the night, a standard procedure for new inmates, DeSabato said.
The new allegations against Sandusky were detailed in grand jury report released Wednesday that alleges the former coach used the charity he founded to gain access to at-risk boys, then use gifts groom them for eventual sexual contact.
In interviews following his initial arrest last month, Sandusky denied sexually assaulting children but acknowledged showering and engaging in "horseplay" with them.
Sandusky's attorney, Joseph Amendola, said in a statement he would discuss his client's release later Thursday.
The latest accusers are the ninth and 10th alleged victims described in grand jury reports that claim Sandusky befriended and then molested boys he met through The Second Mile charity. A grand jury document released Wednesday echoed an earlier report, saying Sandusky gave the boys gifts while also making sexual advances toward them.
One of the new accusers said Sandusky kept him in a basement bedroom during overnight visits to Sandusky's home, forced him to perform sex acts and assaulted him.
"The victim testified that on at least one occasion he screamed for help, knowing that Sandusky's wife was upstairs, but no one ever came to help him," the grand jury report said.
Sandusky was charged last month with abusing eight boys, some on campus, over 15 years. Officials say the allegations were not immediately brought to the attention of authorities even though high-level people at Penn State apparently knew about them.
The scandal resulting from Sandusky's arrest led to the ouster of Hall of Fame football coach Joe Paterno and longtime college president Graham Spanier.
Two other Penn State officials are charged with perjury and failing to report the assaults. They say they are innocent.

KEY PLAYERS IN PENN STATE SCANDAL
Loading Slideshow
Jerry Sandusky

Following a three-year investigation, the former Penn State player and assistant coach was <a href="http://www.collegian.psu.edu/archive/2011/11/07/grand_jury_presentment_story.aspx" target="_hplink">indicted</a> on Nov. 4 on 40 counts of sexual crimes against male minors that occurred over the span of more than a decade -- the first alleged recorded incident of abuse <a href="http://www.cnn.com/2011/11/07/justice/pennsylvania-coach-abuse-timeline/?hpt=ju_c2" target="_hplink">dates back to 1994,</a> and Sandusky was first investigated in 1998.. The allegations have rocked Penn State's storied athletic program to its core, raising questions of who in the program knew what -- and how much -- when.

Mike McQueary

<a href="http://www.philly.com/philly/sports/colleges/penn_state/133338298.html" target="_hplink">McQueary</a> was a graduate assistant at Penn State when he allegedly witnessed coach Jerry Sandusky sodomizing a 10-year-old boy in a locker room shower. Shocked by what he saw, he reported it to head coach Joe Paterno, who then told Athletic Director Tim Curley and senior vice president Gary Schultz. Ten days after McQueary saw the incident, Curley and Schutlz told him that they were not going to report it to police.

Joe Paterno

The famed Nittany Lions coach was allegedly informed of Sandusky's actions in 2002, after which he reported them to Athletic Director Tim Curley. He claims that he did not know the full extent of Sandusky's actions. In a statement, Paterno said that "the fact that someone we thought we knew might have harmed young people to this extent is deeply troubling." Joe Paterno <a href="http://www.huffingtonpost.com/2012/01/22/joe-paterno-dead-ex-penn-state-football-coach-obit_n_1221946.html" target="_hplink">passed away from lung cancer </a>on Jan. 22, 2012.

Gary Schultz

The Daily Collegian reports that Penn State senior vice president for finance and business <a href="http://www.collegian.psu.edu/" target="_hplink">Gary Schultz</a> was known for his family values. However, Schultz allegedly lied to authorities about what he knew in regards to Sandusky's actions, and may have been aware of them for years. He has since resigned from his job. A judge ruled in December that<a href="http://www.huffingtonpost.com/2011/12/16/tim-curley-gary-schultz-hearing-trial-penn-state_n_1154360.html" target="_hplink"> Schultz and Curley will be tried</a> on charges of lying to a grand jury.

Tim Curley

Penn State's athletic director was informed of Sandusky's misdeeds as early as 2002, but maintains that he was not aware of their explicit nature. He has been charged with failure to report and has been put on administrative leave. He claims he is innocent. A judge ruled in December that<a href="http://www.huffingtonpost.com/2011/12/16/tim-curley-gary-schultz-hearing-trial-penn-state_n_1154360.html" target="_hplink">Gary Schultz and Curley will be tried</a> on charges of lying to a grand jury.

Graham Spanier

Penn State President Spanier, left, recently wrote to the Penn State Daily Collegian that he believed he had the best job in American education. Now, students and alumni are <a href="http://www.collegian.psu.edu/archive/2011/11/07/Petition_to_fire_president_spanier.aspx" target="_hplink">calling for him to be fired</a> in the wake of horrific sexual abuse accusations against former coach Jerry Sandusky.

The Second Mile

Sandusky's <a href="http://www.thesecondmile.org/" target="_hplink">charity,</a> founded in 1977, allowed him unfettered access to young boys under the guise of selflessness.

More on HuffPost...