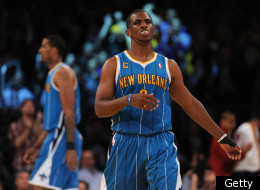 So what now?
The unprecedented turn of events regarding the vetoed NBA trade about to send Chris Paul to the Los Angeles Lakers on Thursday evening gave way to shock and confusion on Friday.
After it was widely reported that a three-team deal would send Chris Paul to the Los Angeles Lakers NBA Commissioner David Stern suddenly vetoed the swap. A league source told Adrian Wojnarowski of Yahoo! Sports on Thursday night that the owners, who are the stakeholders of the Hornets, pushed Stern to kill the deal. However, league spokesman Mike Bass denied that the owners had urged Stern and cited "basketball reasons" for why the deal was nixed.
That wasn't enough to stop the outrage coming from writers, analysts, along with the teams and players involved in the trade.
The drama provoked Grantland editor in chief Bill Simmons to opine that Stern created his own Watergate. ESPN writer and talking head Michael Wilbon called the move "gutless" and said the owners should be ashamed of themselves. New Orleans, Houston and Los Angeles plan to appeal to the league and have the decision be reversed.
For his part, Paul could muster only a three-character response:
ESPN's Stan Verrett reported that CP3 would not show up for New Orleans Hornets training camp on Friday. Paul is also said to be exploring legal options NBA players union chief Billy Hunter.
Wow, indeed. So will Chris Paul eventually get traded? Or is he stuck in New Orleans until he becomes a free agent? Will there be a full-scale NBA mutiny? Who knows what will happen, but scroll down for the latest updates on the NBA drama.
Dallas Mavericks owner Mark Cuban showed his support for David Stern's decision to veto the Chris Paul trade in an interview with ESPN Dallas 103.3 FM.
'The message is we went through this lockout for a reason. Again, I'm not speaking for Stern. He's not telling me his thought process. I'm just telling you my perspective, having gone through all this. There's a reason that we went through this lockout, and one of the reasons is to give small-market teams the ability to keep their stars and the ability to compete.

I wouldn't have been happy, but I would have understood because it was a conversation a lot of owners had long before the Laker deal was consummated. It was like, 'Look, sure, I'd love him. Give [Paul] to me in a heartbeat.' But the whole idea of the lockout was to prevent stuff like that."