Homemade Gift Ideas: Swirled Christmas Ornaments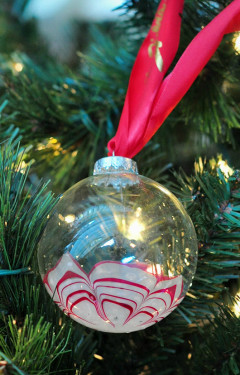 This homemade gift idea puts nail polish to a surprising new use. Photo by Rena C
Nail polish is one of those things you pick up at the counter because, hey, it's only two dollars and the color is so fun! Then, you get home and realize you have more nail polish than you know what to do with. Well, pull out some of those older colors and try making this fabulous DIY swirl ornament! It's stylish, chic and looks store-bought, so you can give a few away as a homemade gifts in disguise.
What You'll Need
Clear glass ornament
Red and white nail polish
Drinking glass (that will fit your ornament almost exactly)
Filtered water
Toothpick
How To Make It
1. Dip one drop of the red nail polish into the cup of water. Quickly, do the same with the white. Continue alternating three or four more times.
2. Use a toothpick to create a pattern in the nail polish.
3. Take your ornament and dip it into the nail polish/water, and hold it there for three seconds.
4. Pull the ornament out and you are done. Good news: if you don't like it, just use some nail polish remover to clean the ornament off and try again!
Visit The Cheese Thief for a video tutorial and to learn how to make monogrammed marble ornaments.
Looking for a few great homemade gift ideas? Try out our other quick DIY ornament ideas below.
DIY Ornaments That Sparkle
DIY Snowflake Ornament
And for a really surprising way to make an ornament, watch this: