"Saddened by last night's events. We understand OWS emotions run high, and also protestors' fear of having their images and history," he wrote. "Co-opted by corporate media -- the irony here is the scene we couldn't shoot portrayed OWS in a sympathetic light," he then wrote (with a dead link here). "Harassing night shift Production Assistants. Those are not the images of OWS we wanted our audience to see. Let's move forward," he continued. All of his tweets can be seen in a screen-grab of his page below.
When reached for comment, NBC said they would "not be commenting on the story at this time."
The set -- made to look like the encampment that became emblematic of the worldwide Occupy movement and that was cleared out by the New York Police Deptartment in November -- had mock signs, tents, a library and a kitchen. The real protestors who swarmed the scene suspected that "SVU" intended to portray them in something other than a flattering light.
"Basically, obviously, 'Law & Order' was using this as a backdrop for some salacious story," Han Shan, a member of the OWS press team, told The Huffington Post. "There are certainly some folks who feel really offended by the attempt to kind of use this very real, very living movement, this economic justice movement that's making real change for working families in this country, to use it in some kind of story line in this dramatic cop show."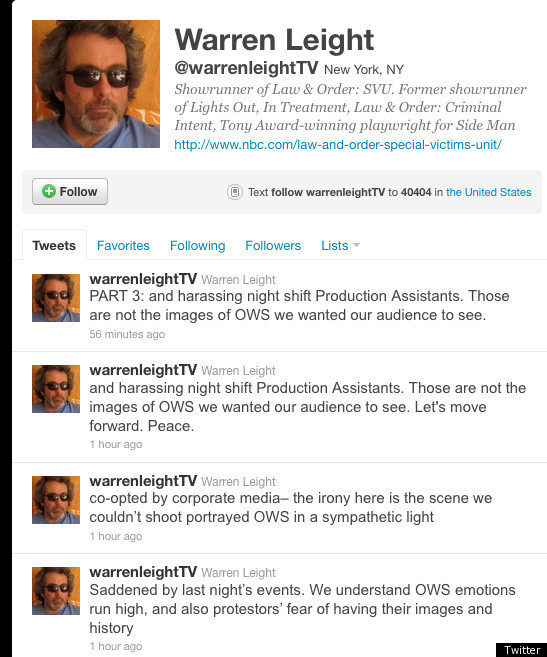 PHOTOS (via Sandi Bachom):
-
Occupy Wall Street At 'Law & Order: SVU'
SUBSCRIBE AND FOLLOW
Get top stories and blog posts emailed to me each day. Newsletters may offer personalized content or advertisements.
Learn more