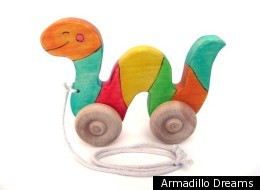 Now that they've outgrown their baby toys, the toddlers in your life are probably dreaming of new playthings to keep them busy. Here are our picks for beautiful -- and quiet! -- handcrafted gifts for young ones.
If you have children of other ages in your life, be sure to check out our gift ideas for kids ages 4 to 9 and for babies.
Photos: 7 Great Toddler Toys
Friendly Stripey Snake Pull Toy | $24 | ArmadilloDreams.etsy.com Snakes normally aren't so smiley, but this toy makes them downright adorable! "We like the idea of taking something children might normally be scared of and making it cute and friendly," said shop owners Dustin and Amanda Cowell. Instead of giving your toddler a pet dog, just go for a pet wooden snake -- with rosy cheeks of course.

Wooden Matching Tile Game | $26 | littlesaplingtoys.etsy.com It takes about 40 minutes for each of these wooden matching games to be made -- but the look of joy on your little one's face when playing will last much longer. And the images on these tiles are one-of-a-kind. "We purchased these adorable images from our graphic designer and just had to find a way to incorporate them into a toy," said shop owners Nick and Kimber Christensen.

Sensory Tub Toddler | $49 | dosmanosfun.etsy.com The seller got the idea for this tub from her daughter, Sofia. "At the time, she was not quite a year and a half old and I wanted to give her another sensory type of experience. She loved playing with a water tub, so I decided to switch it up and create a rice sensory tub," she says. This toy is designed to help babies learn through play, and develop basic hand-eye coordination and fine motor skills.

Kinder Scoot-Ride | $75 | oaktreearts.etsy.com When shop owner Kate got fed up with the poor quality of children's toys, she decided to just create one herself. Out of that frustration a minimalistic and super fun scooter was born. "[The] scooter is a great gift for toddlers because it is durable and provides hours of ... fun time indoors and out (always under adult supervision)," she said. We want one of these in adult size!

Manzanita Classic Deluxe Modular Building Set | $110 | manzanitakids.etsy.com Toss aside the Lincoln Logs in favor of this deluxe building set! "We had talked about ideas for this toy for years before we started our business," said shop owners David and Adrienne. "Once we had children of our own, we set to work in embodying the concepts of creativity, play and construction ... in this toy." Each set is truly a labor of love, and every piece is hand-cut and sanded in the shop.

Robot Soap Set | $9 | ABreathOfFrenchAir.etsy.com "I love robots and when I saw this mold, I just knew I had to make it for my customers!" said the seller. And know who else loves robots? Most children. There's nothing cooler to a little kid than carriers of alternative intelligence, and it's in the form of tub-friendly soaps? Even better.

Hardwood Workbench and Tools | $50 | asummerafternoon.etsy.com If your little one is an aspiring Bob the Builder, this is the perfect gift for him or her. "We came up with this idea because our 2-year-old son loves working alongside his father, and we wanted to come up with some tools that he could use (that didn't require batteries), that would help him develop his hand strength and motor skills," said shop owner Erin Nuland. This tool set is sure to make any toddler feel like a real handyman -- or woman.