'What To Expect When You're Expecting' Trailer Released: Tackles Topic Of Pregnancy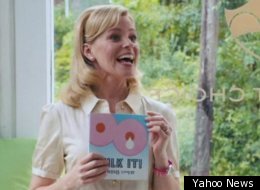 "I just wanted the glow ... the one they promise you on the cover of those magazines," says a woman's voice. "Well I'm callin' it -- pregnancy sucks!" The pregnant woman is actress Elizabeth Banks, and she seems to be having a nervous breakdown in front of a packed room of listeners. Banks' prenatal freakout opens the trailer for the new movie based on self-proclaimed pregnancy bible, "What to Expect When You're Expecting." (Scroll down to watch.)
"What to Expect When You're Expecting," is the book many pregnant women loathe (but all of them own). Several movies feature plot lines that include the book, which has been on the New York Times bestseller list for years. "Knocked Up"'s climactic fight scene even centers around Seth Rogen's lack of interest in baby books. "How did anyone ever give birth without a baby book? That's right! The ancient Egyptians freaking engraved 'What to Expect When You're Expecting' on the pyramid wall!" he screams at girlfriend Allison played by Katherine Heigl. Now, the famous book is stepping out of other films and into its own -- complete with a star-studded cast.
Like other ensemble romantic comedies, "Valentine's Day" and the upcoming "New Year's Eve," "What to Expect When You're Expecting" is filled with familiar faces. Elizabeth Banks plays an author and owner of The Breast Choice boutique. Brooklyn Decker and Dennis Quaid play a couple starting a family despite the fact that she is decades younger than he is. Chris Rock is a part of a cool dad crew that dominates the playground, Jennifer Lopez is trying to adopt a baby after having fertility issues, Cameron Diaz is a pregnant weight loss and fitness TV personality and Matthew Morrison of "Glee" fame is her dance partner on a "Dancing With the Stars"-type show. (Oh yeah ... that hot guy from "True Blood," that hot guy from "Gossip Girl" and that hot guy from "Love Actually" also star.)
The film is billed as a "brutally honest" look at pregnancy. Watch the trailer and let us know if you think the movie will deliver on that promise or, will it just be another rom-com with a high-profile cast?
WATCH: