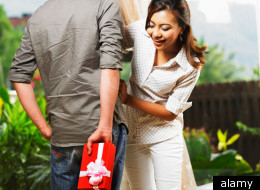 Stressing out about what to get your significant other -- or about what he or she will get YOU? Relax, whatever you pick can't possibly be as bad as the poor gift/life decisions below ... or can it?
Take a look at the worst gifts the HuffPost editorial staff has received from significant others (past or present) and share your own stories by tweeting @HuffPostWomen with hashttag "#yougotmethis?".
PHOTOS: Worst Gifts From A Significant Other
Worst Holiday Gifts From A Significant Other
"I dated an artist from RISD and he made me into a superhero character, presenting me with a poster he had hand-drawn of me as his "heroine." The drawing -- and the sentiment behind it -- were admirable. My super hero name was not: Thunder Thighs. Needless to say, I bolted. -Jessica Pearce Rotondi, Associate Editor, HuffPost Women

"I wear the same necklace almost day (my good luck amulet). It's a gold and silver little heart on a gold chain. It holds great significance for me -- I wore it at my wedding, at my 'gotcha' moments when we adopted both of our children. You can see it in every vacation photo, every holiday picture, and of course around my neck literally every day. I even sleep with it. When the chain broke (as it has a few times), I walk around feeling naked without it. So when my husband gave me the identical necklace with the comment 'It looked like something you would like' -- It was an 'uh, really?' moment. I mean, how could he seriously not notice?? -Ann Brenoff, Senior Writer, The Huffington Post

"My boyfriend spent most of his time at my apartment. He had already replaced my 13-inch tv/VCR combo unit with a 27-inch TV ... Out of the goodness of his heart. So for my birthday -- the first one I was celebrating since we started dating, so this was a big moment -- he got me the most obvious next thing ... a VCR. In 2003. It's not so much that I would have wanted a DVD player. Home electronics, the kind that will benefit him way more than me, not okay. I made this clear. We never had the problem again. And yes, I married him." -Anonymous

"One year, my boyfriend gave me cookware as a gift. The only problem? I don't even cook. (His justification: I like to eat.)" -Anonymous

"A guy I dated last year gave me his old stereo as my Hannukkah gift after I had painstakingly thought of gifts for each night of Hanukkah -- things that would really be 'him' and spoke to our time together. I thought his gift was super awkward. I was like, 'Uh. thanks?'" -Anonymous

"I once got a copy of 'Confessions Of A Shopaholic' from a an ex who was trying to get back together with me. What was he trying to say?" -Anonymous

"My husband of over a decade gave me speakers." -Anonymous

Allison Dowd:I was expecting a ring...I got a portable DVD player. Cue the sad trombone (waaa waaa). I had him return it. Eventually, I did get that ring.

stagemgr4u:For our 20th anniversary, my husband gave me two gifts: a wedding dance figurine and a case of Reese's. Really? Two years later, we're getting divorced.

mallenrohslvr:A few years ago for Christmas, my grandmother gave me an industrial sized pack of Scott TP w/the reasoning that 4 girls living in one apartment spent a lot of time in the bathroom. It was useful but I was still like "really? seriously?"

LalaOringe:My mom gave me a ZhuZhu pet (a mechanical hamster). I was 24 years old. She said, "You're always saying you want a pet..." Really, Mom??

Cora Grandfield:My husband (now ex husband) of thirteen years gave me a box of 500 envelopes, a stapler with 50,000 staples, and 1000 paper clips for Christmas one year. His reasoning...you will use them some day.

Notyourtrophy: Last year, my husband got me a laptop computer. We already had two laptops at home - one for the kids and one for us - so I thought this was odd. I was actually expecting a ring to complete my engagement­/marriage set as all those years I only had the engagement ring and not the band. Turned out he was having an affair and didn't want me to run across any of his activity on "our" computer, so he got me my own. What a guy! We divorced officially in May.

NYCKitty: Many moons ago I dated this guy who gave me (in a box) 2 candles from a dollar store (not even GOOD candles and I love candles) and... A sports bra.

andi514:One year, my Dad got my Mom dry gas and tupperware. Yes, they are still married.

BBell7:I had put a lot of thought in getting my then boyfriend of 3 years very personal gifts and gifts he really needed such as a new snowboarding coat and passes to a local Ski Resort. He got me a wire mail holder.

lizatcu:My boyfriend of 19 months gave me a new stereo for my car for Christmas after I spent over $400 on him for things he really wanted/needed. Oh, and I repeatedly told him in the months leading up to Christmas I did NOT want a new car stereo. We broke up 2 months later.

bbkittybb:My husband at the time took time to wrap up my own things that I hadn't used to see if I knew I owned them!