Zachary Meints, Former Youth Coach Of Boulder Hockey Club, Arrested On Internet Exploitation Charges (VIDEO)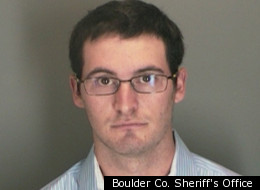 Boulder Police arrested 23-year-old Zachary Meints on Thursday, a former Boulder Hockey Club youth coach, on five counts of suspicion of internet exploitation of a child, according to a Boulder Police press release. The police have interviewed more than a dozen victims and witnesses and so far five victims were under the age of 15 at the time the exploitation occurred, beginning in September of 2009.
CBS4 reports that Meintz is accused of chatting about graphic sex acts with children over the internet.
Police said that they were first notified about the allegations on September 28, 2011 and the initial rounds of victim and witness interviews has led them to more potential victims. The police believe there are more victims out there that have not come forward yet.
7News reports that a mother of two boys who received text messages from Meintz said, "He was asking the boys to send him pictures of themselves and then offering, you know in exchange, money and paid porno sites." The mother said her sons ignored the messages and didn't say much about it until they were approached by the police.
What's worse is the allegations may have been kept quiet by youth hockey officials. 9News discovered that a memo about the exploitation allegations was distributed to a team owner as well as "officers or directors of Boulder Hockey Club or Rocky Mountain RoughRiders" more than two months before parents were notified.
However, Meints was dismissed as a part-time employee of the Boulder Hockey Club and was fired from his RoughRiders assistant coach position for the 15-years-old-and-under team as soon as the police began their investigation in September, the Daily Camera reports.
Dennis Hefter, president of the Boulder Valley Hockey Foundation told the Daily Camera he was "shocked" when he heard Meints was arrested. "If anybody thought any of these things were in Zach's capabilities, we would have gotten rid of him before then, obviously."
Anyone with information about this case are encouraged to call 1-800-444-3776 or submit a tip through the Crime Stoppers website.
As a reminder to parents, Boulder detectives offer these tips to ensure the safety of their children. Parents should pay attention to the following:
Mood changes
Declining school grades
Sexualized behavior
Secretive behavior
Not sleeping or eating well
Abnormal relationship with an adult

Parents who may be concerned about their child's welfare should monitor their cell phone and computer use. It's also a good idea to talk to kids about what kind of behavior is appropriate or inappropriate. And always, report anything suspicious to police.