Afghanistan Night Raids Defended By Adm. William McRaven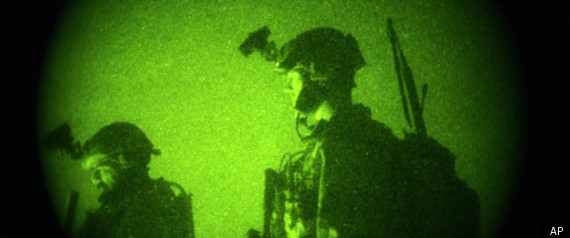 KABUL, Afghanistan -- The U.S. Special Operations commander who directed the operation that killed Osama bin Laden defended the unpopular night raids on homes in Afghanistan that have provoked the fury of the country's president and held up a security agreement with the United States.
Adm. William McRaven also backed a training program his troops run for village police forces – an initiative that some fear could spawn militias and new violence.
McRaven, who leads the U.S. Special Operations Command, said in a rare interview with journalists late Saturday that the U.S. understands Afghan concerns about night raids and has allowed its partner Afghan forces to take the lead in those and other operations.
"At the end of the end of the day I think you would find that night raids are very valuable when you are trying to get someone who is trying to hide," McRaven said.
Afghan President Hamid Karzai has called for an end to the raids, in which troops borne in by helicopter search homes, because he says the forces conducting them treat too many civilians as if they were insurgents and violate privacy in an intensely conservative society. The deaths they cause – although relatively few in number – have made them unpopular with many Afghans.
Afghan citizens, Karzai says, cannot feel secure if they think armed troops might burst into their homes in the middle of the night.
McRaven, who would not answer questions about the May raid that killed bin Laden in neighboring Pakistan, said the United States was discussing the future of night raids with Afghanistan's government.
Around 2,800 raids against insurgent targets have been carried out in the past year, he said. But in 85 percent of them, the forces involved never fired a shot.
"In that time the civilians casualties were less than 1 percent. The number of times we engaged was about 15 percent," he said.
Karzai convened a traditional national assembly known as a Loya Jirga last month that stopped short of demanding a complete end to night raids. Instead, it asked that they be led and controlled by Afghan security forces – a demand that the U.S. says it has met.
Still, the issue has held up the signing of a security agreement with the U.S. that could keep thousands of American troops here for years beyond the 2014 deadline for most international forces to leave. Remaining U.S. troops would train Afghan forces and assist with counterterrorism operations.
The U.S. ambassador to Afghanistan, Ryan Crocker, told reporters Saturday the raids will be a topic of debate when the two countries return to the negotiating table to discuss their strategic partnership.
McRaven's command is involved in training Afghan commandos – 8,200 so far – as well as special forces and local police known as ALPs.
U.S. special forces have been training the village-level fighting forces in hopes of countering the Taliban insurgency – a concept similar to the one that turned the tide of the Iraq war.
But the ALP initiative has stirred worries it will legitimize existing private militias or create new ones. Warlord-led militias ravaged Afghanistan in the 1990s, opening the way for the Taliban takeover.
McRaven said he had not seen any evidence that the groups were fueling local rivalries. He said there was no decision to increase the number of ALP's, although "my instinct is yes to increase, but that remains to be seen."
The Afghan government has agreed to have about 30,000 of the ALP forces trained by the end of 2013. They will be located across 99 districts around the country at a cost of about $170 million a year. The forces are not meant to replace the Afghan army or police, but complement them in some areas.
"The real advantage for the ALP ... is the ability for Afghans from their local districts to protect their own homes," McRaven said.
Below, a recent history of Afghanistan:
Loading Slideshow
1979

In December 1979, the Soviet Union invades Afghanistan and sets up a communist regime loyal to Moscow. Backed by the West, anti-communist mujahedin fighters launch a guerrilla war against the Russian troops. The Saudi Osama bin Laden fights on the side of the mujahedin. <em>Young supporters of the Afghan communist regime march through the streets of the capital Kabul 28 April 1979.</em>

1988-1989

The Soviet Union withdraws its troops from Afghanistan in 1988 with the last Russian soldiers leaving the country in 1989. For almost ten years, Moscow maintains over 100,000 troops in Afghanistan. <em>Red Army soldiers wait in front of their plane to leave for Soviet Union at the Kabul airport 13 February 1989 during Soviet Army withdrawal from Afghanistan. </em>

1992-1994

In 1992, mujahedin fighters remove the communist government of President Mohammad Najibullah. Years of fighting among the different mujahadin factions follow. <em>A man lifts burnt carpets out of the ashes 28 April 1992 in a street in the Afghan capital one day after fierce fighting between rival mujahedeen factions devastated a number of areas in the city.</em>

1994

Mullah Mohammad Omar, a radical Islamist cleric, founds the Taliban, or "students." The Taliban capture Afghanistan's southern city of Kandahar in 1994. It remains the group's bastion for years. <em>An Afghan from the militant Taliban movement walks by three Russian-made 16-barell Uragan ('Hurricane') rocket launchers, part of the massive arsenal of heavy weapons they have collected at Charasyab base, 16 miles southeast of Kabul 25 February. </em>

In September 1996, the Taliban advance on Kabul. The group captures the capital, drives out the forces of Ahmad Shah Massoud, and executes former president Najibullah. Different mujahedin factions united against the Taliban. Also in 1996, Osama bin Laden returns to Afghanistan. <em>A line of tanks belonging to the Taliban militia at Jabul Seraj, some 48 miles north of Kabul, move towards the Salang frontline 09 October. </em>

1999

The UN imposes an air and arms embargo on the Taliban for as long as the group refuses to hand over Osama bin Laden. <em>A religious protester holds a portrait of Saudi dissident Osama bin Laden during a protest rally against the United States 30 July 1999 in Islamabad. </em>

2000

The Taliban blow up 2,000-year-old Buddha statues in Bamiyan. <em>A December 1997 file photo shows residents of Bamiyan province in Afghanistan walking past the world's tallest standing Buddha statue. </em>

2001

Ahmad Shah Massoud, commander of the anti-Taliban Northern Alliance, is killed in a suicide attack. Two men with fake Belgian passports pose as journalists and detonate a bomb while interviewing the military leader. <em>In this picture taken 28 June 2001,Afghan opposition's veteran military commander Ahmad Shah Massoud smiles during an interview with an AFP journalist.</em>

September 2001

After the terrorist attacks on the World Trade Center, the United States demands the extradition of Al Qaeda leader Osama bin Laden from Afghanistan. Taliban leader Mullah Omar refuses. The Northern Alliance starts attacking Taliban holdouts later that month.

October 2001

American and British planes bomb Afghanistan. <em>An F-14A 'Tomcat' Fighter Aircraft Refuels From An S-3B 'Viking' During Flight Operations October 5, 2001 From Aboard The Aircraft Carrier USS Enterprise. </em>

November 2003

The Taliban flee Kabul and the Northern Alliance takes control of the city. Taliban fighters flee en masse to the mountains and to neighboring country Pakistan. In December 2001, Hamid Karzai is chosen to lead the new interim Afghan government during an international peace conference in Bonn. <em> Afghan interim leader designate Hamid Karzai answers media in front of the former Afghan king Mohammed Zahir Shah's residence in Rome, 18 December 2001.</em>

January 2002

The Taliban capitulates. <em>Local Afghans look on with curiosity at visiting U.S. Navy SEALs who are in their village for a Sensitive Site Exploitation (SSE) mission to find suspected al Qaeda and Taliban forces January 2002.</em>

2005

After continuing attacks since 2002, the Taliban regroups and regains strength. In the coming years, the group continues to launch attacks against foreign troops. <em>Burqa clad Afghan women walk past a wall covered with posters featuring images of Afghan election candidates in Kabul, 11 August 2005.</em>

August 2006

NATO troops take over command in Afghanistan. Suicide bombings and attacks against international troops rage on. <em>NATO Secretary General Jaap de Hoop Scheffer (R) addresses men from 16 Air Assault Brigade, 216 Signal Squadron and 3rd Battalion The Parachute Regiment inside the Foreign & Commonwealth Office (FCO) in central London, 19 October 2006. </em>

The Taliban take 23 Koreans hostage and demand a prisoner swap. One Korean is killed, the others are released. <em>Che Chang-Hee (R), one of 19 released South Korean hostages, previously held in Afghanistan, reunites with his family at a hospital in Anyang, south of Seoul, 02 September 2007.</em>

March 2009

American President Obama says he is willing to negotiate with "moderate" elements within the Taliban. <em>Barack Obama with Hamid Karzai in May 2009. </em>

July 2009

Afghan and American troops launch a major campaign against the Taliban in the southern province of Helmand. <em>File photo showing British troops in the Helmand Valley in 2007. </em>

September 2011

A Taliban suicide bomber kills former Afghan president Burhanudin Rabbani in his home. <em>Afghan onlookers stand next to a banner featuring an image of the slain former president Burhanuddin Rabbani in Kabul on September 21, 2011. </em>
Copyright 2014 The Local Paper. All rights reserved. This material may not be published, broadcast, rewritten or redistributed.