JbDubs' 'I Hate My Job,' Starring Boston Ballet Principal Dancer, Gives Beyonce A Run For Her Money (VIDEO)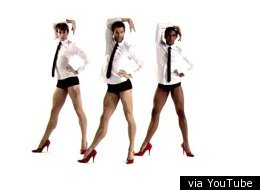 Beyonce's "Single Ladies" meets the '80s camp classic "9 to 5" in this new video starring one of the Boston Ballet's principal dancers.
JbDubs, also known as James Whiteside, rocks red spike heels, a men's dress shirt and little else in the clip for his techno-pop song "I Hate My Job." One thing's for certain: the boy -- along with backup dancers Bradley Ryan and Lawrence Rines, also company members of Boston Ballet -- has got legs, not to mention some fierce moves.
Check out the video for "I Hate My Job" below: