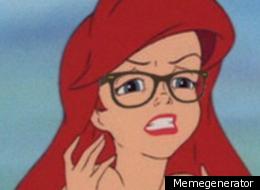 Every December Urlesque celebrates the best web culture trends of the year with awards called the Urlies. This year, along with our partners at HuffPost Comedy, we decided that instead of choosing the winners in each category on our own, we would do things a little differently.
We're going to let you, our readers, choose who wins the Urlies for Best Meme, Best Viral Video, Best Single-Topic Blog and Best Cute Thing for 2011. It's an unprecedented amount of power, but we have faith that we're leaving the task in good hands.
To kick off the week we're introducing our nominees in the Best Meme category, which includes all of the image macros, photo-editing trends and stock photo tropes that spread like wildfire through our blogs and hearts.
There's some stiff competition, so be sure to rate the memes and let us know if we missed anything in the comments!
A whole slew of hipster memes made their way across the web in 2011, but none were quite as good as the original bespectacled Disney princess.

While "White Whines" have certainly been a thing on the web for years now, 2011 was the year that brought us the First World Problem image macro. That poor, poor woman.

Back in March, some absurd photographs of Food Network personality Paula Deen riding on the back of another chef hit the Internet, and a meme was born. There wasn't anything Paula Deen didn't ride this year.

It all started with the original F*ck Yeah Ryan Gosling blog, which brought us the phrase "Hey girl." Then it branched out to Feminist Ryan Gosling, Typographer Ryan Gosling, and a million other Ryan Goslings, all willing and able to whisper the sweet nothings you're just dying to hear.

This year we saw Horsemaning, Coneing, Owling and Tebowing all crop up as popular photo poses -- but we wouldn't have had any of those without the original Planking.

If Occupy Wall Street was the life meme of 2011, then Pepper Spraying Cop was the web component that went hand-in-hand with it.

He may have started out on Reddit, but it didn't take long for Scumbag Steve to sweep the web (he even made an appearance at Hallowmeme!).

We all know stock photography can be ridiculous, but The Hairpin picked up on one particularly absurd photo trend this year: women laughing alone with their salads. This trend paved the way for other stock photo lists, like Women Struggling to Drink Water, but there will always be a special place in our hearts for the original.

There's no denying that Steve Buscemi has some signature baby blues, but when Reddit had the brilliant idea of Photoshopping them onto the faces of celebrity women, Internet magic happened.

The catchphrase that Rhett and Link came up with for small California taxidermy business owner Chuck Testa was too awesome not to become a trend.

All the science nerds out there were in luck this year, because this funny feline was all about periodic table-related puns.