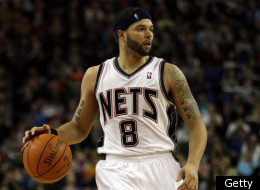 The negative backlash directed at NBA Commissioner David Stern for vetoing a three-team trade that would have sent Chris Paul to the Los Angeles Lakers continued through the weekend. Joining the chorus of criticism was one of the few players capable of making a case to be a better point guard than CP3: two-time All-Star Deron Williams.
The New Jersey Nets point guard told the New York Daily News that although he thinks players are upset, it would be pointless to go to battle against Stern.
"You're fighting a bully. David Stern is a bully, you can't really go up against him," Williams said. "He knows he's a bully. It's not a secret. You got to be. I think every owner of every big business is a bully. That's how they become successful."
After a largely successful tenure as NBA Commissioner, Stern's legacy has taken a series of hits in recent months. His behavior and tactics during the NBA lockout as well as the recent veto debacle has incurred the wrath of analysts, players an even some of the team owners. During a labor meeting over the summer, Miami Heat star Dwyane Wade was said to have flipped out at Stern and shouted, "You're not pointing your finger at me. I'm not your child."
Shortly after the incident with Wade, HBO Real Sports host Bryant Gumbel scolded Stern and claimed that he is "eager to be viewed as some kind of modern plantation overseer." That sentiment was echoed later during the lockout by Jeffrey Kessler, the attorney representing the NBA players' association.
Although the contentious labor negotiations revealed a much deeper rift between Stern and the players than may have been previously understood by most fans, the Commissioner's involvement in forging a new agreement in time to save the majority of the season could have gone a long way toward healing old wounds. Unfortunately, the NBA's Era Of Good Feelings lasted right up until Stern vetoed the blockbuster deal for "basketball reasons."
Even after Stern vetoed the trade, Cleveland Cavaliers owner Dan Gilbert still felt the need to express his frustration in an email which ripped the trade proposal as a "travesty."
With the Lakers reportedly pulling out of that deal after further negotiations, it looks like CP3 might be on his way to the Los Angeles Clippers in a another multi-player blockbuster. It remains to be seen how the league and the media will react, but if the last few months serve as any indication, it probably doesn't bode well for the public perception of Stern.