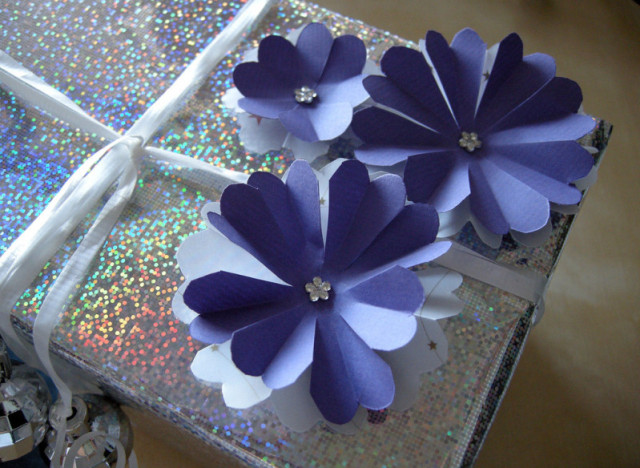 This homemade gift idea is an easy way to get your gift noticed. Flickr Photo by PermaCultured
We've all been there: you walk into a party, greet the hostess and look around for a place to put down your gift. Across the room, you spot a cacophony of metallic ribbons, dancing Santas and cheery snowmen, and look down at your own gift only to realize it looks exactly the same as everything else on that table. Want to stand out from the crowd? Try this homemade alternative! These adorable DIY bows are a great replacement for the usual store bought ones, and all you'll need for gift wrap is some plain white paper or a simple silvery sheet.
What You'll Need
Two colors of construction paper
Scissors
Glue
Rhinstone/sticker embellishment (optional)
How To Make It
1. Cut your construction paper into circles.
2. Fold the circles in half, in half again, and in half one more time until you have a 1/8 wedge.
3. Use your scissors to cut a decorative edge, and unfold the circle.
4. Stack two of the different colored flowers on top of one another and glue them together.
5. Glue the flower to your wrapping paper.
6. For a nice extra touch, place a rhinestone or sticker in the center.
Click for more great homemade gift ideas.