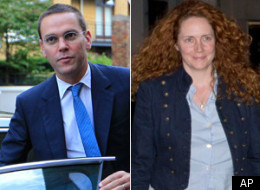 James Murdoch and Rebekah Brooks were together at Blenheim Palace outside of London over the weekend, according to the Daily Mail.
The newspaper reports that Murdoch, the top boss at News International, and Brooks, the company's former chief executive, were at the landmark home on Saturday. The sighting is surprising given that both are central figures in the phone hacking scandal that has upended the British press, and are fighting allegations that they condoned -- and covered up -- the illegal activity at the News of the World. The embattled pair testified in front of Parliament, where they adamantly denied knowledge of phone hacking.
Brooks was arrested, and resigned in disgrace in July. Her close ties to the Murdochs and her sizable compensation package have sparked even more public scrutiny in recent months.
Their visit did not cause much of a ruffle. A guest told the paper that the group went to the front of the line of people waiting to see Christmas carolers inside. Rebekah Brooks and her husband ushered Murdoch inside and walked away. The source said, "Someone did shout at Murdoch, 'Are you going to buy the place?' But he just gave a wry look. Maybe he was stocking up on Churchillian spirit."