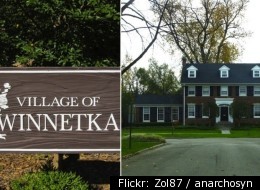 Three Chicago area communities were listed among the 15 richest American zip codes in a ranking released this month.
Zip code 60043, which includes the North Shore community of Kenilworth, came in as the third-richest zip code in the United States that is home to at least 100 households, based on average household income and net worth, according to Business Week. The exclusive suburb and highest ranking Midwestern zip code is home to 810 households with an average household income of $323,588 and average household net worth of $1,558,833.
Zip code 60045, including Lake Forest, Ill., ranked thirteenth with an average household income of $270,525 and average household net worth of $1,415,295. Finally, zip code 60093, another North Shore area which includes north suburban Winnetka and Northfield, ranked fourteenth. Home to 6,765 households, the area boosts an average household income of $278,924 and average net worth of $1,417,368.
The three areas were the only Illinois zip codes recognized in the ranking, which was topped by Palm Beach, Fla. (average household net worth $1,486,123) and Old Westbury, N.Y. (average net worth $1,547,866).
Kenilworth, located some 17 miles north of downtown Chicago, is a North Shore planned community that borders Winnetka to its north edge and was once home to Senator Mark Kirk. Kirk attended New Trier High School in Winnetka, which also boasts Chicago Mayor Rahm Emanuel among its long list of luminous alumni.
Winnetka also recently attracted headlines when its village council effectively squashed a plan to increase affordable housing in the area. One community member decried the plan as providing "handouts" that would attract crime and lower property values.