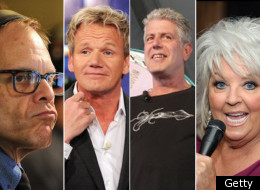 The term "food celebrity" encompasses a wide variety of professionals, from TV personalities to accomplished chefs. What this group does have in common, however, is the ability to reach and influence a large audience. In the list below, we recount the chefs that have continued to make headlines this year, for better or worse. Whether these chefs were fighting against flavored milk in Los Angeles schools, starting a new TV show or creating airplane food, we've got them covered.
There are many chefs who deserve a shout-out but didn't quite make it on our list. David Chang has had a big year between the launch of Lucky Peach magazine, the opening of Momofuku Seibo in Sydney and the debut of the Momofuku Milk Bar cookbook. "Top Chef" darling Stephanie Izard was nominated as one of Food & Wine's Best New Chefs and has a new cookbook of her own. And who can forget about Guy Fieri, who was just sort of "around" whether it was making guest appearances on TV shows or getting embroiled into some icky controversy?
Check out the biggest food personalities of 2011:
Anthony Bourdain has never been shy about voicing his opinion and he had plenty of them in 2011. Besides his frequent and entertaining appearances on a variety of talk shows, Bourdain got into a bit of a silly tiff with Paula Deen. But Bourdain even he admitted that after all his wisecracks, he gets a little sick of himself. In between all of his various kerfuffles, he managed to start his own book publishing line. His popular 2010 book, Medium Raw, came out in paperback. The seventh season of "No Reservations" premiered and he launched a new show on the Travel Channel, "The Layover." Not bad for 365 days.

It seems that everything Paula Deen touches turns to gold -- gold tinged with butter, perhaps. From selling butter-flavored lip balm at her country store to starting her own clothing line, Paula Deen has kept herself in the new cycle this year (on the weirder side, she also got cited for chicken possession). Our two favorite things about Paula Deen in 2011 definitely were the amazing meme Paula Deen Riding Things and the fact that she was named hottest female chef by Maxim.

It's the end of an era. Alton Brown filmed the last episode of "Good Eats" this year. He's still kept plenty busy though, whether its releasing a new cookbook, or mulling about future cookbooks -- e-book, style. Brown also had some harsh words to say about molecular gastronomy this year, but then backpedaled a bit. He deleted and then re-opened his Twitter account, and issued a "Fanifesto," which outlined what fans should and shouldn't do when they meet him. The Fanifesto was very detailed but we can't blame him -- we wouldn't want people bothering us in the bathroom either.

It was a big deal in the food world (and for soap fans) when "All My Children" got cancelled and "The Chew" replaced it. Although the five hosts were already fairly well-known, they now have a new, daytime audience watching them five days a week. The show's start was pretty rocky but it is very slowly improving. Regardless of the show's kinks, "The Chew" provides an important and exciting platform for the hosts to discuss food issues on a serious and national level. Let's hope they're up to the task.

Jamie Oliver is trying his darndest to make people eat better. He penned an open letter to the U.N. Secretary General about the obesity crisis. While he's had some successes -- such as getting Los Angeles schools to stop serving flavored milk -- he's also hit a fair amount of roadblocks. Turns out, Americans are stubborn, but so is Jamie Oliver. He's not afraid to tell McDonald's to "f*ck off" or call Sarah Palin a "Froot Loop."

This probably wasn't Gordon Ramsay's best year. It's hard to run a giant restaurant empire when also being a big TV personality -- several accounts and reviews have mentioned that his restaurants are suffering. News of his financial woes started about two years ago, but it doesn't seem like things have totally bounced back. He severed ties with his Dubai restaurant this year, which was his first international restaurant when it opened in 2001. The legal battles haven't stopped either -- his mother-in-law sued him this year. It's hard to feel too sorry for the guy when he still finds so many other ways to make money -- like selling a line of cookware at Kmart. Plus, he's found the time to keep opening more restaurants. We don't know how he balances it all, but we can't say we're jealous -- it must be exhausting being so mean all the time.

The closing of El Bulli led to pretty much a unanimous sigh by all the foodies who had been meaning to travel to Roses, Spain to sample Ferran Adria's food but never got the chance. Adria's influence on the culinary world is nothing short of monumental -- but he isn't going anywhere. Adria has been working on re-opening El Bulli as a sort of culinary foundation. In between, he has been giving talks galore and traveling.

As Ferran Adria dimmed the lights of El Bulli, Rene Redzepi brightened the bulbs of Noma. Redzepi is definitely the new Adria -- at least in terms of media attention. His restaurant Noma is now the best restaurant in the world, according to Restaurant Magazine, a title that El Bulli used to hold. And, it's the new "it" spot for serious gastro-tourists. No wonder everyone is talking about foraging this year.

When you open a restaurant that sells tickets (and season tickets), you're making a bold statement. Lucky for Grant Achatz, it sounds like his food stands up to the statement. The Chicago chef opened two places this year: Next, a restaurant that changes concepts every three months, and The Aviary, an upscale cocktail bar. Oh, and Achatz wrote a pretty heart-wrenching book about his bout with cancer this year too. Now that's a busy year.

The accolades just keep pouring in for Southern chef Sean Brock. His restaurant Husk was nominated as 2011's best restaurant by Bon Appetit and Brock was the subject of a lengthy profile in the New Yorker. Brock's commitment to sourcing ingredients only from the South is giving Southerner's another reason to be proud of their traditional cuisine: under his hands, it tastes damn good.

Marcus Samuelsson must have a twin -- how else is it possible for him to do as much as he does? The HuffPost blogger has been absolutely everywhere this year, from creating airplane food and helping to launch a pretty great new food site, Food Republic. Also, we've spotted him at so many different events this year that we're pretty much convinced there are two of him. Unless the man just doesn't sleep, ever.
For more on the best of 2011, visit AOL's Best of 2011.