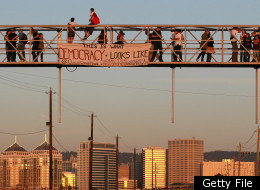 Occupy LA protesters gathered early Monday morning at the Port of Long Beach to take part in a West Coast blockade of all ports. After obstructing an intersection, demonstrators eventually backed down in the face of a coalition of law enforcement groups -- but not before two were arrested and dozens of trucks were blocked from their destinations.
Protesters were focused on a pier that led to the SSA Marine, a shipping company that is 51% owned by Goldman Sachs. A video released one week ago explains that the reasons for the Port of Long Beach action include migrant and workers' rights and trade policy.
Four different police agencies worked in concert to control the crowd at the Port of Long Beach: California Highway Patrol, Harbor Patrol, Long Beach Police Department and the Los Angeles Police Department. A livefeed of the action showed that police held a skirmish line and eventually declared the event an "unlawful assembly." According to protesters, law enforcement officers reportedly threatened to deploy "impact weapons" and "dog bites" on the crowd.
The
Associated Press has more
on the scene at the port:
In Southern California, as many as 400 demonstrators gathered in a park, then marched on the Port of Long Beach. Occupy protesters targeted a dock facility leased by SSA Marine, a shipping company that's partially owned by Goldman Sachs.

Dozens of protesters, some beating drums and waving flags, gathered outside a fenced area at the port, which is part of a sprawling complex that covers both Los Angeles and Long Beach.
Occupy LA protesters chanted slogans directed at police officers like "You're sexy, you're cute! Take off your riot suit!" before being eventually diverted to the nearby Harry Bridges Park.
Two were arrested at the Port of Long Beach, according to Occupy Los Angeles Twitter reports, and one of them includes longtime Los Angeles activist Kwazi Nkrumah. The other is a man from Riverside named Nick, according to NBC LA's John Cadiz Klemack. The group is calling for donations to a bail fund.
Today's action was not officially endorsed by the International Longshore and Warehouse Union, notes the Los Angeles Times, but protest organizers were hoping that labor leaders would recognize the picket line.
By the 9 am hour, the blockade seemed to be winding down at the Port of Long Beach, but the action definitely had an impact. Organizer Michael Novick told the Los Angeles Times, "We've already blocked 200 trucks from coming in." Helicopter coverage from KTLA showed a long line of backed up trucks on the street leading into the port.
The official word from the Port of Long Beach, however, is that the action did not disrupt shipping or other business this morning; John Cadiz Klemack of NBC LA notes that it contrasts reports put out by Occupy organizers.
Occupy LA blamed the gathered police for shutting down business: "There was no order to shut down the port. LBPD blocked the roads not letting anyone in, effectivly (sic) shutting down the port."
By 9:30 am, streets near the targeted port were beginning to move again, according to televised reports from KTLA, but a 9:39 am update from Occupy LA claims that a tent is stopping a line of truckers from entering the port.
Photos of today's action at the Port of Long Beach by Mathieu Young.
Story will be updated. Occupy the Port of Long Beach was part of a coordinated action across all West Coast ports. Check out live updates from around the nation with HuffPost's Occupy Wall Street liveblog.
Via HuffPost Miami:
When an Occupy Miami member offered evicted protestors vacant apartments in a building he owns in Downtown Miami's Overtown neighborhood, it seemed like the perfect solution: the 'Peace City' space would provide headquarters for the movement and shelter a small faction of the group's most vulnerable members. But it hasn't gone well. Other tenants say the building has become a cesspool of drug use and violence while non-resident Occupy Miami members are trying to distance themselves from the 'radicals' -- all while the two factions are wrestling for control over Occupy Miami's social media sites and future plans.
The feud between the Overtown occupiers and more mainstream members has only gotten worse. The two factions are now battling for control of Occupy Miami's social media sites. The movement's main Twitter account recently announced it had been "hijacked by a small, non-consensus group of radical members." The Occupy Miami Facebook page was also temporarily hacked by someone inside Peace City. Meanwhile, the Overtown occupation is slowly driving away more moderate members.

"This is a black eye on the Occupy movement," says Shannon Reaze, an Overtown community organizer and Occupy Miami supporter who is now helping tenants move out of Paz's building. "The violence and drugs going on here are way outside of what I thought Occupy stood for. This place is destabilized."

...The supposedly hard-core activists here spend their days drinking and getting high. And as Peace City devolves into lawlessness, the most committed occupiers are leaving. Local landowners and politicians want the place shut down, while cops are suspicious. Yet as long as Paz wants the protesters around, nothing short of a demolition order can keep them out.