The Walmart Problem: Uncovering Labor's Place In An Era Of Joblessness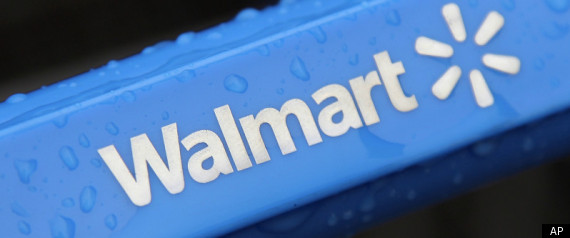 The group dispersed to stores around Los Angeles. At the Crenshaw Walmart, a UFCW organizer and a community organizer from the Los Angeles Alliance for a New Economy walked briskly up and down the aisles, distributing pamphlets, along with a petition calling for Myers' re-employment at the store. Less than five minutes after they entered the store, three store managers and a security guard confronted them.
"Excuse me ma'am, you can't distribute literature in here," a tall man with a manager's nametag pinned to his shirt said gruffly to the woman holding pamphlets. "I'm sure you know that."
The pair went back out to the parking lot, where OUR Walmart members, already expelled from the store, stood in clusters trying to speak with employees on their way to or from work as mall security and two store managers looked on.
"People are interested in supporting [us], I think," said a young woman, an out-of-town organizer with the UFCW. She had two petitions filled out supporting Myers, and had distributed a bunch of pamphlets about the group.
The woman standing next to her, Angela Redd, a six-year veteran and former assistant manager of the Crenshaw store, laughed. "Not in front of them," she said, gesturing at the security guards. Redd, who is 41, was fired from the store last May, Walmart said. "We were taught to keep employees away from the union," she said as the group made their way back across the street to the Krispy Kreme.
In the afternoon, the UFCW members debated sending groups back for another round of visits. They decided against it because, according to the reports from the field, managers were calling the police and sending associates to the break rooms until the organizers departed.
"Calling the cops is corrosive, but their presence can cut both ways," said Alan Hanson, a seasoned organizer sitting in a Krispy Kreme booth, coordinating the day's events in front of his laptop, cell phone ringing. "It's intimidating, but for associates that are just starting to engage, it can also be an incredibly, for lack of a better word, liberating experience. It can activate them."
Myers nodded. Since his dismissal, he said, he has been devoting nearly all of his time to working with the labor organization. "Walmart should be worried," he said.
OUR Walmart would not disclose numbers measuring the day's success; but at the Crenshaw store, at least, the day's results appeared mixed. Nationally, the events did not appear much in the news.
Two months after the day of action, Myers was feeling less sure of his future with OUR Walmart and the UFCW. His small savings are dwindling and he has not found new work. He is having difficulty sleeping, he said, as his anxiety grows. He wants to pursue legal action but has not yet found a lawyer.
"I'm starting to feel like I have to accept defeat when I didn't do anything wrong," he said. "I don't want to say anything bad about this organization, but right about now, opt me out. Because I'm just that tired."
AN UNBROKEN STRING OF DEFEAT
Despite the irresistible potential of penetrating Walmart, organized labor has effectively given up hopes of fully unionizing the behemoth company.
"The labor movement now knows that trying to form a union at Walmart is a losing strategy," said Nelson Lichtenstein, a labor historian at the University of California, Santa Barbara and the author of "The Retail Revolution: How Wal-Mart Created a Brave New World of Business." "So the question is, what kind of organizational forms can be created which are not unions but which will have the effect of moving companies in the direction that labor unions want?"
OUR Walmart represents organized labor's answer to that question. Walmart portrays it as more of the same. Restivo, the company spokesman, rattled off the names of similar organizations seen in past efforts to organize the company's workers. "Wake Up Wal-Mart, Walmart Watch, OUR Walmart," he said. "The strategy and the tactics are exactly the same."
Past attempts at unionizing American Walmart workers have resulted in an unbroken string of defeat. In the last decade, meat cutters in Texas voted to unionize; Walmart subsequently outsourced meat cutting. In Quebec, after one store's employees voted in favor of representation, Walmart shut the store down.
In 2007 Human Rights Watch published a 210-page report, "Wal-Mart's violation of US Workers' Right to Freedom of Association," which claimed that the company "stands out for the sheer magnitude and aggressiveness of its anti-union apparatus and actions."
"It's clear that when it comes to unions and collective bargaining, there is nothing that Walmart is unwilling to do," said Dorian Warren, a political science professor at Columbia University, who is writing a book about the anti-Walmart movement.
Despite the challenges, area observers say OUR Walmart presents the most promising attempt yet to force change. Since launching last June, OUR Walmart claims to have doubled in size, boasting thousands of members in hundreds of stores across the United States, though it declines to disclose firm numbers.
For both sides, the stakes are considerable. Walmart's American sales have slumped in recent years, and an energized labor movement threatens its traditional recipe for success -- steady expansion and low employee compensation. Meanwhile if the UFCW fails to bore its way into the retail Goliath, the union risks a slide into irrelevance -- as they lose market share to Walmart, and other non-unionized grocery chains, they lose bargaining power as well.
"It would be a very slow, yet painful decline," said Warren. "Short term, they have to come up with a strategy to help them protect the standard of living for their current members. The long term game is absolutely a unionized Walmart. But I think that's a 20-year game."
OCCUPY WALMART
OUR Walmart's day of action took place just days after Occupy Wall Street camps began to spring up around the country. While membership is not expanding at anything like the rate see at New York's Zuccotti Park, or generating the same media interest, the campaign is making small moves.
OUR Walmart members helped generate negative press for Walmart when they leaked information about the company slashing health benefits to The New York Times. They have organized small protests outside Walmart stores. They visited Bentonville, Arkansas, during Walmart's annual meeting with Wall Street analysts to argue before outside investors -- who describe the company's performance to the stock-holding public -- that the company's low-cost labor strategies are ultimately hurting Walmart.
And they have visited Occupy camps around the country to hold "teach-ins" about the company's practices. There is a natural affinity between the movements, OUR Walmart members say. Who is more "one percent" than Walmart founder Sam Walton's heirs -- the richest family in America, according to Forbes 2009 ranking, with more than double the wealth of the second wealthiest family at that time. Mike Duke, the company's Chief Executive Officer received a pay package in 2010 worth $18.7 million.
On a brisk October day, before New York's protest camp was cleared, one OUR Walmart member named Sandy Carpenter, a former associate at a store in Maryland who's now a full-time organizer, addressed a small group gathered at the top of Zuccotti park.
"I'm asking you all to reach out to the corporate people at Walmart and ask them to sit down with their associates," Carpenter said to the group of roughly 40 protesters and onlookers. "Let them know that change starts at Walmart!" Members of the crowd shouted "right on" and began to disperse.
Carpenter nodded briskly and swung her arms, trying to stay warm. She had been anticipating visiting the camp for weeks, she said, but she wasn't prepared for the plunging temperature. As she wound up her talk, the sun had sunk behind the skyscrapers; she wore no jacket, just five shirts layered on top of each other.
"It's amazing. Here, people are so willing to come out," she said, shaking her head as she observed the sea of signs -- "we are the 99 percent," "free the wage slaves" -- that filled the park. "Walmart instills such fear in people. They really believe that someone is down the street watching their house. Here, it's different."
Subscribe to the HuffPost Money newsletter!