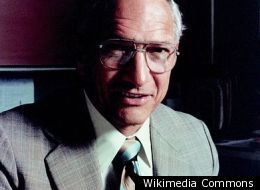 Google's homepage is looking chipper than usual today in honor of the "Mayor of Silicon Valley," Robert Noyce.
Noyce, whose 84th birthday would have been today, not only co-founded Fairchild Semiconductor and Intel, but also co-invented the integrated circuit, or microchip, in 1959, paving the way for a new era of computing.
In his patent application for a "Semiconducter Device-and-Lead Structure" (a.k.a. an integrated circuit) Noyce described the device as relating to "electrical circuit structures incorporating semiconductor devices" and noted its "principal objects" were "to provide improved device-and-lead structures for making electrical connections to the various semiconductor regions; to make unitary circuit structures more compact and more easily fabricated in small sizes than has heretofore been feasible; and to facilitate the inclusion of numerous semiconductor deices within a single body of material."
"Don't be encumbered by history. Go off and do something wonderful," Noyce said, according to Intel's "online exhibit" honoring Noyce. He is also quoted as saying, "Optimism is an essential ingredient of innovation. How else can the individual welcome change over security, adventure over staying in safe places?"
Noyce was granted fifteen patents during his lifetime, and his work earned him accolades from three U.S. presidents, as well as awards and honors including the National Medal of Science, the National Academy of Engineering's Charles Stark Draper Prize and the Institute of Electrical and Electronics Engineers (IEEE) Medal of Honor. Noyce was born December 12, 1927 in Burlington, Iowa and died June 3, 1990 of a heart attack.
"I grew up in small town America...you had to be self sufficient," Noyce said in an interview . "If something was broke, you to fixed it yourself. I was easily bored if something wasn't going on, so my mother used to send me out to take things apart."
Tom Wolfe said of Noyce in his profile of the pioneer, "The Tinkerings of Robert Noyce: How the Sun Rose on the Silicon Valley":
With his strong face, his athlete's build, and the Gary Cooper manner, Bob Noyce projected what psychologists call the halo effect. People with the halo effect seem to know exactly what they're doing and moreover make you want to admire them for it. They make you see the halos over their heads.
Read more about Noyce here or here, or check out Leslie Berlin's biography of Noyce, "The Man Behind The Microchip: Robert Noyce and the Invention of Silicon Valley."
See other Google doodles below.
Google Doodle Slideshow(CLONED)
Google honored Robert Noyce, the "mayor of Silicon Valley," with a microchip-themed doodle on December 12. The day would have been Noyce's 84th birthday.

Google celebrated Mark Twain's 176th birthday on November 30, 2011, with a panoramic scene inspired by Twain's literary masterpiece The Adventures Of Tom Sawyer.

The first-ever Google doodle was a simple stick figure behind the second "O" in the logo on Aug. 30, 1998. It represented the founders' recent trip to the Burning Man festival.

One of the great and super nerdy Google doodles, this Jul 23, 2009 logo celebrates the annual Comic-Con conference.

On March 1, 2010 Google honored the 366th birthday of Sir Isaac Newton with its first-ever animated Google Doodle.

Google wished users "Happy Halloween" Oct. 31 with a new video doodle that shows a team of crafty Googlers carving six enormous pumpkins to spell out the search engine's name.

On November 7, 2011 Google celebrated what would have been the 144th birthday of the mother of radioactivity, two-time Nobel Prize winning scientist Marie Curie.

Google introduced a super cool doodle on June 9, 2011, an interactive electric guitar to honor the 96th birthday of legendary musician and guitar innovator Les Paul. The Google guitar could play 10 notes from users' computer screen.

On Sept. 24, 2011 Google's homepage featured a medley of Muppets, honoring the 75th anniversary of the birthday of late Muppets creator Jim Henson. On the interactive logo users could play "puppeteer" by clicking on the colored circles beneath each of the characters, which opened their mouths, and the Muppets followed the cursor with their eyes when you moved your mouse. One of the characters would throw his glasses into the air, and another actually ate a fellow Muppet.

This Google Doodle went live for some on September 4, paying tribute to Queen frontman Freddie Mercury, who would have celebrated his 65th birthday on September 5.

Google's Oct. 12, 2011 doodle illustration featured a brightly colored interactive tribute to artist Arthur "Art" Clokey, who would have turned 90 on October 12. In place of the company's logo, red, yellow, blue and green balls of clay bounced around and sprang to life at the click of a mouse, in an homage to Gumby, Clokey's best known animated character.

In honor of Pacman's 30th anniversary on May 21, 2010, Google gave its logo over to the iconic arcade game with the first ever playable Google Doodle. The logo had 255 levels.

Google celebrated the 117th birthday of dancer Martha Graham -- known throughout the 20th Century as a pioneer of contemporary dance -- with an amazing animated doodle on July 11, 2011.

Google celebrated what would have been the 76th birthday of Roger Hargreaves, creator of the "Little Men" and "Little Miss" series, on May 9, 2011. Google featured a colorful cycle of doodles depicting several of Hargreaves' animated characters, including Little Miss Sunshine, Mr. Tickle and Mr. Messy.

Google celebrated its 13th anniversary on September 27, 2011, with a simple, birthday-themed doodle and a scrapbook-style doodle featuring the company's logo letters dressed in a birthday hats and sitting around presents and a birthday cake. Check out more photos here.

On Mother's Day May 8th, Google tipped its hat to moms everywhere with a spring-themed logo with a purple flower in place of the "L."

Google celebrated the Royal Wedding of Prince William and Catherine Middleton on April 29, 2011 with a Google doodle depicting a festively illustrated panorama of Westminster Abbey, where the royal knot was tied.

On April 22, Earth Day's 41st birthday, Google celebrated the occasion with a colorful animated doodle. Running your mouse over the illustration's playful animal characters brought the scene to life.

On April 16, 2011 Google celebrated what would have been the 122nd birthday of one of film's greatest stars, Charlie Chaplin, with a black and white video doodle.

On 12 April 1961, Russian cosmonaut Yuri Gagarin became the first human to enter outer space. Google's commemorative logo was dedicated to Gagarin's flight into space.

Google celebrated what would have been John Lennon's 70th birthday on On Oct. 9, 2010 with the first-ever Google Doodle video. The video played a hand-drawn animated version of Lennon's song "Imagine."