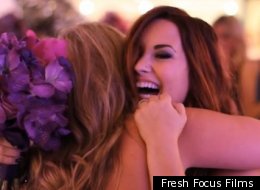 Wedding bells could be ringing soon for 19-year-old singer and TV star Demi Lovato, who caught the bouquet at her friend Tiffany Thorton's wedding in November. The official video of Thorton's wedding--which features Lovato's victory--was released on Monday.
Lovato, who co-starred in the Disney Channel's TV show "Sonny With A Chance," (the show wrapped up in January), acted as one of Thorton's eight bridesmaids.
At 4:36 in the video, the starlet jumps up and down with excitement as she catches the bride's purple bouquet -- a sign that Lovato could be next in line to wed, according to superstition.
We're not sure if Lovato's alleged boyfriend, Wilmer Valderrama of "That 70's Show," was watching -- but according to the Daily Mail, he caught the garter as it was tossed later that day.
The couple began dating in 2010 after Lovato ended her relationship with Joe Jonas. Lovato broke up with Valderrama in June after checking into rehab, but it seems that they rekindled their romance recently as photos surfaced of the pair kissing in November.
Click through the slideshow below to see more celeb bridesmaids:
Stars Who Were Maids of Honor
In February 2009, Pussycat Dolls lead singer and X-factor host Nicole Scherzinger stepped out of the spotlight to let her sister, Keala Leemon, shine on her wedding day. The maid-of-honor even provided her musical talents for the night, performing for her sister's first dance.

Actress and "Sister, Sister" star Tia Mowry played the part of matron of honor at her twin sister Tamera's wedding in May 2011. Despite the fact that Tia was a very pregnant mother-to-be, she looked great in her pink bridesmaids dress.

In January 2011, the singer walked down the aisle for a third time -- acting as maid of honor for her assistant and friend Brett Miller in his Miami wedding. Spears wore a floor-length blue gown for the ceremony.

In September 2008, actress Rachel Bilson was the maid of honor at her best friend's wedding in Santa Barbara, California. In addition to supporting the bride, the star teamed up with designer Brian Reyes to create four one-of-a-kind silk georgette and chiffon gowns for the bridesmaids.

Sisters Kourtney and Khloe were maid-of-honor and matron-of-honor for their sister Kim's August 2011 wedding to Kris Humphries. The two sisters wore white lace Vera Wang gowns to match Kim's wedding gown.