Perks of having more titles than any other noble in the world: you get to walk the red carpet with Tom Cruise.
The Duchess of Alba flaunted her awesomeness last night with Tom Cruise on her arm, as the pair walked the red carpet at a "Mission Impossible: Ghost Protocol" photo call in Madrid.
The Spanish duchess, whose full name is Maria del Rosario Cayetana Alfonsa Victoria Eugenia Francisca Fitz-James Stuart y de Silva, also brought along her husband of two months, Alfonso Diez (although she seemed to favor her movie star date, obviously).
The duchess made headlines when she wed Diez, a commoner 25 years her junior, and endured months of disputes with her family over the fate of her fortune (an estimated $4.9 billion).
But the wedding went off without a hitch and off into marital bliss the duchess skipped! Well, not skipped -- she is a bit fragile. With a younger husband and an active social calendar, the Duchess of Alba looked positively youthful(ish) on last night's red carpet in playful floral stockings (girl loves her patterned tights), sensible black flats and a luxe fur coat fit for a royal. She even sported some fun diamond hair accessories.
Tom Cruise, on the other hand, was not having the best style moment: the "Mission Impossible" star looked a bit schlumpy in a chunky white turtleneck, black pants and a tan leather jacket. Not the worst outfit we've ever seen, but a sleek Armani suit it was not...
Take a look at the duchess' hot date below! That is one pleased 85-year-old woman.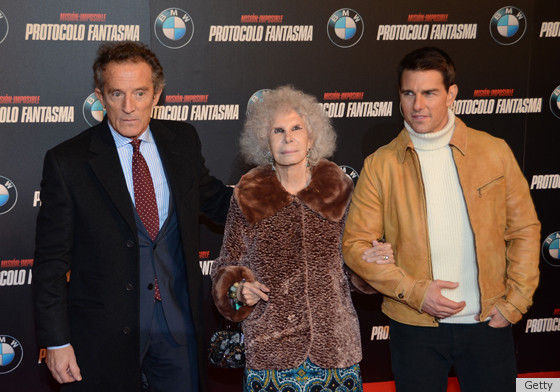 Duchess of Alba and Tom Cruise
SUBSCRIBE TO & FOLLOW LIFESTYLE
We're basically your best friend… with better taste. Learn more