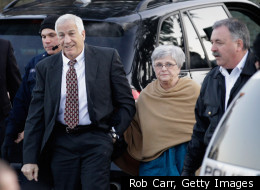 Jerry Sandusky walked out of a Bellefonte, Pa. court moments after he arrived, waiving his right to a preliminary hearing and sparing the former Penn State assistant football coach the humiliation of having his alleged victims outline their accusations of sexual abuse in open court.
The decision to bow out allowed Sandusky's legal team to avoid potentially damaging revelations about their client, who stands accused of more than 50 counts of child sex abuse. But it also means that Sandusky's attorneys passed on an opportunity to take a look at the prosecution's playbook before the case goes to trial.
Sandusky is scheduled to be arraigned on Jan. 11.
Eleven victims and witnesses were expected to testify against Sandusky. Following the preliminary hearing, a judge would have decided whether there was enough evidence to put the former assistant coach on trial.
The preliminary hearing was expected to provide new details that were not revealed during earlier grand jury hearings. Those details may have further tarnished Sandusky's reputation -- but they could have helped his defense team concoct a strategy before going to trial.
Sandusky's decision to waive the preliminary hearing has sparked speculation about a possible plea deal, though prosecutors insist there have been no such discussions.
Sandusky has denied all of the accusations against him
"We fully intend to put together the best possible defense and stay the course for four full quarters," Sandusky said while leaving the courtroom, according to the Twitter feed of Pittsburgh Post-Gazette reporter Ron Musselman.
In a news conference, Sandusky's attorney Joe Amendola said his team made the decision to waive the preliminary hearing after realizing they would not be able to use it to conduct a "reasonable cross-examination" of witnesses.
Amendola said "credibility" would be the main factor in the case, and insisted it was the state that forced witnesses into the courtroom this morning.
"We did not drag people into court, in fact we tried to avoid that," he said.
Earlier this week, Amendola said Sandusky was "looking forward to the opportunity to face his accusers."
The allegations against the former coach have lead to the ouster of football coach and Penn State icon Joe Paterno as well as university president Graham Spanier.
Amendola concludes his statements. Attorney Ben Andreozzi, who represents "Victim Four," reads a statement on behalf of his client:
This is most difficult time of my life. I can't put into words how unbearable this has been, physically and mentally. I can't believe they put us through this only to waive the hearing. Regardless of decision to waive, nothing has changed. I still will stand my ground and testify the truth.
SEE PHOTOS FROM TODAY'S PRELIMINARY HEARING:
SEE PHOTOS OF THE MAJOR PLAYERS IN THE CASE:
Key Players In The Sandusky Scandal At Penn State (All Images via AP)
Following a three-year investigation, the former Penn State player and assistant coach was indicted on Nov. 4 on 40 counts of sexual crimes against male minors that occurred over the span of more than a decade -- the first alleged recorded incident of abuse dates back to 1994, and Sandusky was first investigated in 1998.. The allegations have rocked Penn State's storied athletic program to its core, raising questions of who in the program knew what -- and how much -- when.

McQueary was a graduate assistant at Penn State when he allegedly witnessed coach Jerry Sandusky sodomizing a 10-year-old boy in a locker room shower. Shocked by what he saw, he reported it to head coach Joe Paterno, who then told Athletic Director Tim Curley and senior vice president Gary Schultz. Ten days after McQueary saw the incident, Curley and Schutlz told him that they were not going to report it to police.

The famed Nittany Lions coach was allegedly informed of Sandusky's actions in 2002, after which he reported them to Athletic Director Tim Curley. He claims that he did not know the full extent of Sandusky's actions. In a statement, Paterno said that "the fact that someone we thought we knew might have harmed young people to this extent is deeply troubling." Joe Paterno passed away from lung cancer on Jan. 22, 2012.

The Daily Collegian reports that Penn State senior vice president for finance and business Gary Schultz was known for his family values. However, Schultz allegedly lied to authorities about what he knew in regards to Sandusky's actions, and may have been aware of them for years. He has since resigned from his job. A judge ruled in December that Schultz and Curley will be tried on charges of lying to a grand jury.

Penn State's athletic director was informed of Sandusky's misdeeds as early as 2002, but maintains that he was not aware of their explicit nature. He has been charged with failure to report and has been put on administrative leave. He claims he is innocent. A judge ruled in December thatGary Schultz and Curley will be tried on charges of lying to a grand jury.

Penn State President Spanier, left, recently wrote to the Penn State Daily Collegian that he believed he had the best job in American education. Now, students and alumni are calling for him to be fired in the wake of horrific sexual abuse accusations against former coach Jerry Sandusky.

Sandusky's charity, founded in 1977, allowed him unfettered access to young boys under the guise of selflessness.