Early this morning, "Hasidic reggae superstar" Matisyahu shocked the (Jewish) world with a tweet declaring, "At the break of day I look for you at sunrise When the tide comes in I lose my disguise," and including links to bare-faced photos of himself.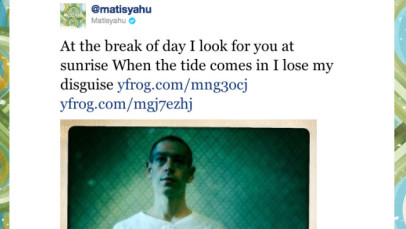 Several hours later, Matis followed up on his website:
Sorry folks, all you get is me…no alias. When I started becoming religious 10 years ago it was a very natural and organic process. It was my choice. My journey to discover my roots and explore Jewish spirituality—not through books but through real life. At a certain point I felt the need to submit to a higher level of religiosity…to move away from my intuition and to accept an ultimate truth. I felt that in order to become a good person I needed rules—lots of them—or else I would somehow fall apart. I am reclaiming myself. Trusting my goodness and my divine mission.
Across various media outlets -- social and otherwise -- fans and journalists jumped on the facial revelation, declaring Matisyahu's Hasidic days over. The always-irreverent Heeb Magazine claims this leap of face means that the musician has gone completely secular:
We take Miller's words to mean that he's done with Orthodoxy and is going to trust his own inner-spirituality. He is also no longer calling himself Matisyahu and intends to rebirth himself as a secular, albeit spiritual, musician.
But Matisyahu maintains he's on a spiritual mission.
So which is it? And how does hair truly reflect religious devotion? Not surprisingly, it's up for debate.
UPDATE: Matisyahu added clarification on his Facebook page at 4:15 p.m.: "For all of those who are being awesome, you are awesome. For all those who are confused: today I went to the Mikva and Shul just like yesterday."
In other words, he performed the same ritual observances today as any day. So it's confirmed: Beardless religious Jews exist.
The Many Beards of Matisyahu
For more, see the original tweet.

Orthodox Jewish reggae star Matisyahu is photographed in the Crown Heights neighborhood of the Brooklyn borough of New York, April 15, 2005.

Hasidic reggae singer Matisyahu performs at the mtvU Woodie Awards at the Roseland Ballroom November 2, 2005 in New York City.

Singer Matisyahu poses for a portrait at the Getty Images Portrait Studio during the 2006 Sundance Film Festival on January 23, 2006 in Park City, Utah.

Matisyahu performs at the 2006 Coachella Music Festival on April 30, 2006 in Indio, California.

Musician Matisyahu performs onstage at the Virgin Festival By Virgin Mobile 2007 at Pimlico Race Course on Aug. 5, 2007 in Baltimore, Md.

Nominee for Best Reggae Album Matisyahu arrives at the 49th Grammy Awards in Los Angeles Fev. 11, 2007.

Musician Matisyahu poses at the Hollywood Life House on Jan. 16, 2009 in Park City, Utah.

Musician Matisyahu attends the celebration of AOL becoming an independent company at the New York Stock Exchange on Dec. 9, 2009 in New York City.

Matisyahu poses for a portrait prior to performing on stage during Day 2 of Bluesfest 2010 at Tyagarah Tea Tree Farm on April 2, 2010 in Byron Bay, Australia.