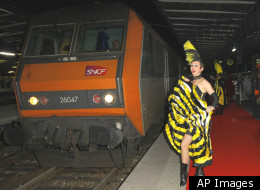 Russian Railways launched service from Moscow to Paris, via Berlin, on Monday, a trip that takes roughly 38 hours.
Rail.co reports that the trip takes riders through five countries--Russia, Belarus, Poland, Germany and France--in its nearly 2,000-mile journey.
The train, which travels at speeds of roughly 124 miles per hour, will travel through such European cities as Minsk, Brest, Frankfurt-am-Oder, Berlin, Hannover, Frankfurt-am-Main, and Metz-Ville.
It is the second-longest Russian-operated trans-European route (Moscow to Nice is the longest), rail.co reports.
The train left Moscow early Monday, arrived in Berlin on Tuesday morning and was due to Paris by Tuesday evening, the Associated Press reports. There are eight sleeper cars and a bar and dining car.
Tour operators say that the target audience are wealthy francophiles who either fear flying or like excessively long train rides, according to RiaNovosti.
While tickets (which run from 330 to 1,050 Euros) are sold out for the remainder of the year, the trains will run three times a week in winter and five times a week in summer.