Skiing In Arizona: A MapQuest Guide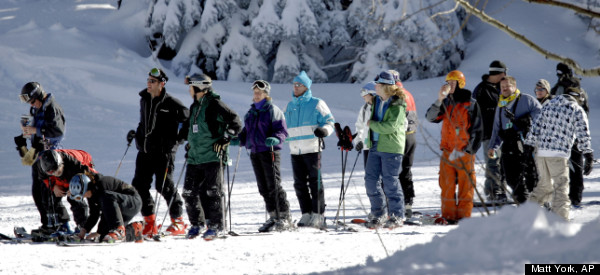 Skiing in Arizona: It's not Aspen, but that's sort of the point. Here, skiing is the domain of vacationing families and travelers on a budget. Resorts are often not the destinations themselves, but rather part of a larger, welcoming, family-friendly tapestry of possibilities -- with programs, attractions and discounts to boot. While skiers and snowboarders can certainly find classic winter sports here, they might come with a charming local twist.
Arizona Snowbowl
Located 14 miles from
Flagstaff
,
Arizona Snowbowl
serves the metropolitan
Phoenix
with
32 alpine trails spread over 777 acres
. Yearly accumulations at this high-altitude resort average about 230 inches of fresh powder -- and (at last!), more than one-third of that snow is accesible to beginners! Snowbowl's Hart Prairie area devotes a full 50 acres to alpine greenhorns, who can ski right on up to either of the resort's main lodges. Advanced skiers and snowboarders can hit the upper bowls on Agassiz Peak if they're looking for double-black diamond action. Free-skiers will enjoy the resort's immense Sunset Terrain Park.
A focus on safety also makes Arizona Snowbowl an ideal family retreat. [The Huffington Post] reports that the resort has an award-winning skier safety program. There are other family-friendly incentives as well. Stay on the mountain to take advantage of "stay and ski free" packages and deals on second-day rentals. The Snowbowl website also lists ski and snowboard clinics geared toward women, and "complimentary clinics and discounted lift tickets for boomers." Lodge restaurants offer nightly discounted dinner specials.
Arizona Snowbowl's proximity to Flagstaff makes it a great staging point for day trips to points of interest like Sunset Crater National Monument and the Grand Canyon (only 70 miles away).
Arizona Ski & Snowboard Resorts Map
Click pinpoints for driving directions.
Mount Lemmon Ski Valley
Mount Lemmon Ski Valley is full of little surprises. First of all, it's located in the scenic Santa Catalina Mountains, an hour's drive from
Tucson
, making it the southernmost ski resort in the continental United States. Although its high-altitude location preserves snow, as
The Huffington Post
observes, "[the] road leading up to Mount Lemmon is lined with saguaro cacti at its lower elevations, a surreal sight for those about to go skiing."
Skiing this far south is a luxury, and the resort, nestled high in the Coronado National Forest, is a gem to those who seek it. But don't expect a lot of frills. There aren't any terrain parks, nor is there any apres-ski to speak of. But the lack of nightlife (and therefore, light pollution) and high elevation make for excellent star-gazing conditions. The Huffington Post recommends checking out the SkyNights program at the University of Arizona's SkyCenter, located a short drive from the ski area on Mount Lemmon. Book in advance, and be sure to bundle up -- it gets cold on the mountain at night!
WATCH: Junior Jibbers At Play, Sunset Terrain Park
Sunrise Park
Sunrise Park
is owned and operated by the
White Mountain Apache Tribe
, who have lived in eastern Arizona for thousands of years. It has an extensive network of 65 trails spread across 600 skiable acres on three mountains, with a 42-inch base of packed powder. According to
The Huffington Post
, the difficulty level of most trails here is "evenly split" between easier and intermediate terrain, making the resort ideal for a variety of skill levels. Its location -- within a four-hour drive from Tucson, Phoenix and Albuquerque -- is far enough to feel like a getaway, but just close enough to push the upper limits of convenience.
While there isn't a hotel directly on the mountain, the tribe also owns a lakeside lodge nearby, which provides amenities like in-room jacuzzis. Sunrise Park has fast lifts, hosts slope-style competitions and caters to a mixed audience of student and family travelers. There's aslo yearly dogsled race held at the resort, and an annual women's skiing and snowboarding seminar.

Did we miss your favorite ski and snowboard resort in Arizona? Tell us about it in the comments section below.
Plan your next winter getaway with MapQuest's ski resort guides for winter travel destinations in the U.S. and Canada.