Virginia Tech Shooting: 'Hokies For Crouse' Raises Money For Slain Officer's Family (How You Can Help)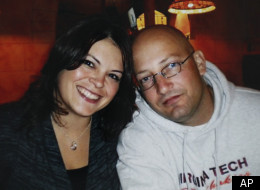 As the Virginia Tech community mourns the loss of slain police officer Deriek Crouse, students have come together to raise funds for his wife, son and four stepsons the Roanoke Times reports.
Crouse, 39, was shot and killed Thursday during a routine traffic stop, an incident that invoked memories of the 2007 shooting that left 32 dead, the Associated Press reports. As the slain officer and Iraq War veteran was remembered Monday as a "loving husband, father and public servant," students continued to encourage community members to donate money to help the Crouse family.
"It just broke my heart knowing that these kids wouldn't have their father around for the holidays," Bethany Darnley, 22, a human development major from Pittsburgh, told The Roanoke Times.
Darnley and Drew Jenkinson, 21, both seniors at Virginia Tech, started "Hokies for Crouse" and raised more than $75,000 in just two days, according to CNN. The two are donating the money to a memorial fund through the National Bank of Blacksburg, and are collecting gift cards and presents for the family too, reports The Republic.
"We're hoping that people will see we're part of Hokie Nation, and that means we stick together through thick and thin," Darnley told The Roanoke Times.
To get involved in "Hokies for Crouse" click here.