One particularly hapless member of the Westboro Baptist Church -- which is known for its extreme stance against homosexuality -- was recently snapped wearing a T-shirt emblazoned with the logo for "Glee," arguably the most gay-friendly show currently on television.
As Buzzfeed has noted, she "told [the photographer] she didn't know anything about the shirt, but that her sister gave it to her when they headed out this morning."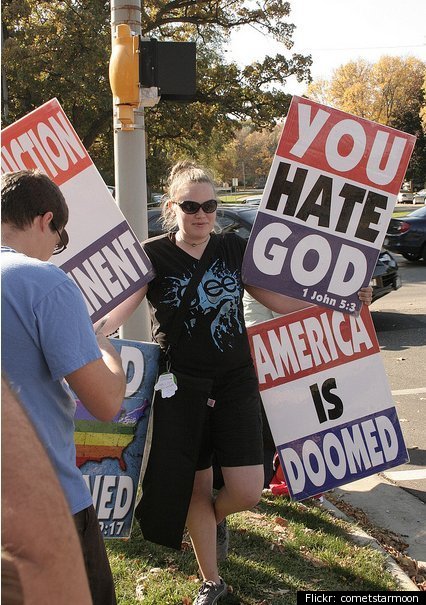 Known for carrying placards reading "God hates fags," "God hates Jews" and "God hates America," the Westboro Baptist Church's congregation has staged a number of large scale protests at the funerals of Elizabeth Edwards, Michael Jackson and Matthew Shepard, as well as a number of lesser-known U.S. military figures.
Take a look at photos of some of their protests below:
Top 9 Despicable Protests by The Westboro Hate Church and one Awesome Protest Against Them(CLONED)
The Westboro Baptist Church first gained national notice at the funeral of Matthew Shepard who had been robbed, brutally beaten and left to die in Laramie, Wyoming.

The Westboro Baptist Church threatened to picket Steve Jobs' funeral but called it off when the memorial service was held privately.

The Westboro Baptist Church picketed Elizabeth Edwards' funeral after she died of cancer.

The Westboro Baptist Church protested Lance Cpl. Matthew Snyder after he had died serving his country in Iraq. The protest of the hate group went all the way to the Supreme Court.

While it is not clear that the hate group ever got there they declared their intent in this charming YouTube Video staring the head hater himself who tells the people of Norway -- God Sent the Shooter. Read more about it here.

The Westboro Baptist Church protested the Illinois Holocaust Museum on the eve of Rosh Hashanah

The Westboro Baptist Church picketed the funerals of victims of Tucson shootings. They agreed not to picket the 9 year old Christina Taylor Green in exchange for air time on a local radio show.

Westboro Baptist Church picketed the funeral of recording artist Michael Jackson. Members of Westboro have also recorded a song titled "God Hates the World," an adaptation of Jackson's charity single, "We Are the World."

The Westboro Baptist Church protested in tornado devastated Joplin, Missouri when President Obama visited.

Read more about it The Foo Fighters vs. Westboro.
Photo by Flickr: cometstarmoon