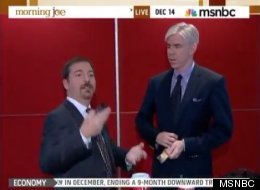 Chuck Todd was caught giving someone the middle finger on Wednesday's "Morning Joe."
The embarrassing moment came as cameras cut to Todd standing around with "Meet the Press" host David Gregory. Todd, apparently not aware that the camera was looking at him, was seen laughing and then flipping the bird at an offscreen person. David Gregory looked comically stunned and nervous, but nobody made any comment about the incident. Todd later apologized on Twitter:
@chucktodd

Chuck Todd
The camera is always on. A lesson some of us never learn. My apologies. Am personally embarrassed. Was a joke with someone on other side
"Morning Joe" is, of course, no stranger to profane on-air gaffes, from Mark Halperin's infamously calling President Obama a "dick" to Joe Scarborough getting into trouble for saying the "f" word repeatedly.
Watch the video above (via Newsbusters).
Below, see some other major gaffes on "Morning Joe."
Joe Scarborough dropped the f-bomb on-air in November 2008.

MSNBC contributor Mark Halperin said President Obama "behaved kind of like a dick" at a press conference the day before. Halperin later apologized twice during the show, and was suspended.

Mika mispronounced the word "dip" in January.

Mika Brzezinski had a laughing fit on air when the show re-played a clip about Dick Cheney from "The Late Show With David Letterman."

Joe Scarborough was discussing Fred Thompson's wife on air when he suggested that she "works the pole."