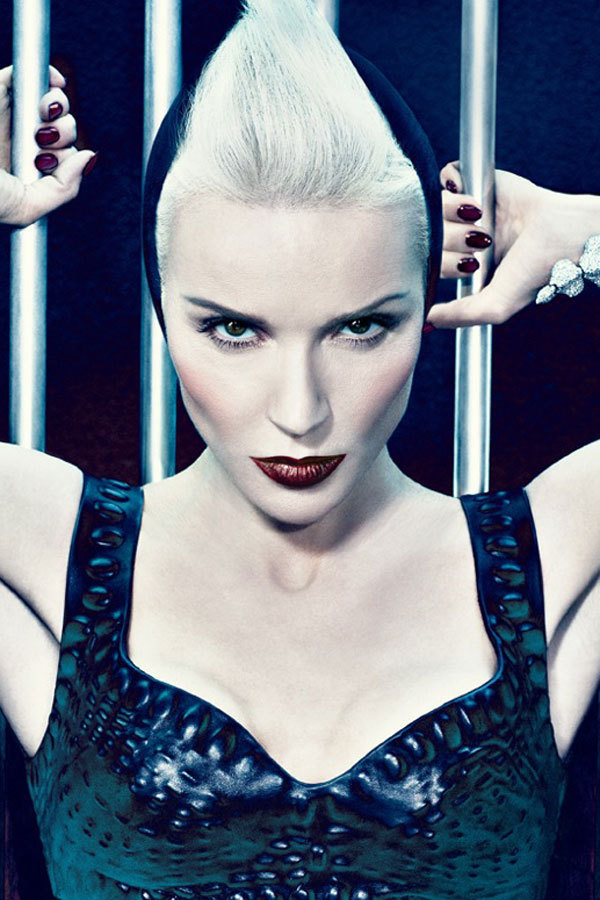 Daphne Guinness. Courtesy of MAC Cosmetics.
"The thing about me is: I identify with fashion but I don't actually consider myself a fashion person," says Daphne Guinness. Instead, the aristocratic style icon and patron of couture insists, she is "more of an artist."
That spirit shines through her most recent public project, a makeup collection produced in collaboration with MAC Cosmetics (and its Senior Vice President and Creative Director, James Gager). The 24-piece collection is both "very personal," drawing on inspiration from Guinness' life (including her childhood home in Spain) and very artistic (with references ranging from antique Chinese porcelain vases to the Old Masters to American painter James Whistler).
Guinness and Gager recently sat down with Stylelist at Miami's Soho Beach House to discuss the line, how she approaches makeup and why you might be seeing a Daphne Guinness-designed jewelry some time soon.
How did this collaboration come about? Have you been wanting to work with Daphne for a while?
Gager: Why wouldn't you want to work with her! In the world of fashion today, how many original people can you even think who come close to what Daphne represents? She supports the world of couture and the world of amazing designers that lots of people don't really understand. And for us, that's really, really significant.
Let's talk about some of the inspiration for the colors in the collection, and what it has meant for you to work on it.
Guinness: It starts probably in the year 750, and it ends with Whistler, I would say. You have a slight reference to China...and then with the names and the iridescence, it was really about the small particles being able to refract light and playing around with that.
I've collaborated with [MAC], but I'm not really in the industry, as it were. I tried to stave this off for as long as possible but I realized that I'm just not part of an industry in a way, because I think it takes a certain kind of brain and it's more in my head.
How do you approach makeup? What's your regimen like?
Guinness: Sporadic! Sometimes I use paint. Yesterday I was using nail polish as lipstick. It's just experiment after experiment. I'll mix one with another one to try to find the ones that I like. What was really great is the mascara I like using is MAC mascara, so that was a no-brainer for me. To me, I need to feel connected with the actual texture of something. It's different for everybody, different people connect with different things. Last week I was looking for something -- I swear I ran to about 60 places trying to find something. It becomes very specific, and you're always on the lookout for something that's just going to add something.
When did you start getting into makeup?
Guinness: At school. I was a punk, and so we wore a lot of black eyeliner and peroxided our hair quite a lot. But we didn't have enough pocket money to buy lots of makeup, so we'd go to the art department and mix it up there. That's the best way, actually!
You've spoken about using fashion as defense. Do you use makeup in the same way?
Guinness: No, I don't use it particularly as a defense because for me it's more of an artistic thing. I use other things as a defense. Makeup, not so much. I try to use it as an enhancement. I think some women do, but I don't have a specific regime.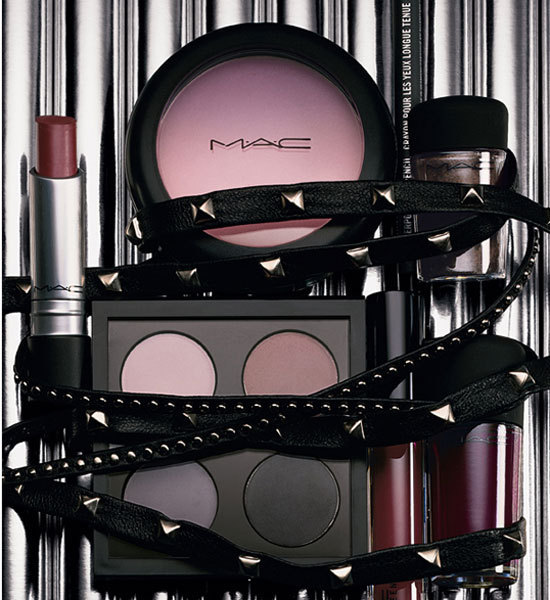 Do you have a favorite item in the collection?
The Interior Life Eyeshadow Quad (pictured above). That I'm very happy with. Probably the only colors I really need for my eyes. If I put a lot of makeup on, I start looking very, very made up. Another thing is, makeup can be very aging. And I've tried to keep it so that it was more shading, and would just enhance various areas rather than this full mask.
What was it like working together? What was the process like?
Gager: When Daphne came to the office, she had a little watercolor kit with her in her bag, and she pulled it out and she had some paper and she started literally painting for us. It was amazing to watch, and then I got into it. We were both kind of like little kids doing little color swatches and then cutting them out...Out of mess comes something fantastic.
Guinness: Everywhere I live, I've got tables full of paint and stuff. I thought that's what everybody did!
Gager: It was a real person coming in with a point of view. One who has an amazing color sense, and an artist that wanted to be involved in the process and not just let a company create things and say, 'I like it or I don't like it.' That kind of experience is what I believe teamwork and creativity is all about, creating something that everybody can really be proud of. And also when we do a collaboration with somebody I want them to work on the names, I want them to help select the photographer, because if I was doing it for another company I wouldn't want to do it unless I could really say, 'This is me and this is what I stand behind.'
Guinness: Because how else could you really talk about it? The process is the thing, it's the most fun thing. In fact, one hates the process ending.
Gager: It's kind of like preparing for a party, getting ready for the party sometimes is much nicer than the actual party. Because then it's over, and I'm like, aww, I want to do it again!
Guinness: Also, I hate the party. I like getting prepared. That's my favorite thing!
So are you thinking of working together again?
Gager: If Daphne's willing, we would love to do a follow-up, because I don't think she's short of ideas. Also, I think her point of view on color the next time around might be different because she's a very creative person that's constantly growing and changing, and so is the world of color.
Daphne, in addition to this collaboration, you've been working on the FIT exhibit. Are you taking a break or what's next?
Guinness: A lot of things, actually. I've been drawing a lot of different pieces of metal things, jewels and stuff.
Click through the slideshow below of "Daphne Guinness" at the Museum at FIT.
SUBSCRIBE TO & FOLLOW LIFESTYLE
We're basically your best friend… with better taste. Learn more