EU Politician Challenged To Prune-Eating Contest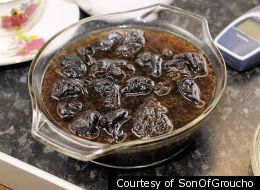 Conventional wisdom dictates that when you're having trouble, um, going, drink a big glass of prune juice.
But that advice apparently no longer applies in the EU, and one member of the European parliament isn't very happy about it. The European Food Safety Authority's ruling that there is "insufficient" evidence that the dried fruit is tied to improved bowel function, but Sir Graham Watson has challenged an EU commissioner to a prune-eating contest to settle the matter.