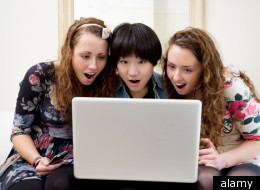 With more than half of all Americans aged 12 or over on Facebook, it's no surprise the massive social network has revolutionized the way social scientists conduct and analyze research. The constantly growing body of information created by users as they update, connect, collect and communicate provides researchers with an easily accessible body of data right at their fingertips.
As a result, researchers now publish hundreds of studies on Facebook each year that reveal often surprising data about how social networking influences virtual and real-world relationships.
"We're on the cusp of a new way of doing social science," Harvard sociology professor Nicholas Christakis told The New York Times in a story examining the new link between Facebook and academic research. "Our predecessors could only dream of the kind of data we now have."
In 2011 alone, studies about Facebook or ones using Facebook as a primary source for data have offered insights into how the network affects happiness, how mothers use it to connect with their children, and what percentage of those same mothers end up hiding their profiles.
Unfortunately, it would be impossible to cover every Facebook surprise unveiled by studies over the last year. That said, we've whittled down the list to our top 7 surprising conclusions reached in 2011:
If this seems like an obvious conclusion to draw from Facebook, it's probably because it's such a ubiquitous feeling that many users no longer stop to question. Nevertheless, one researcher decided to further explore the connection between Facebook and unhappiness after observing that most of his friends felt worse about themselves right after logging onto the site. In a series of studies, Stanford University doctoral student Alex Jordan rounded up college undergraduates -- a demographic which came of age during the rise of Facebook -- and evaluated the students' abilities to accurately judge each others moods. Time and again, Jordan found that students underestimated how unhappy their peers were. And the more they underestimated others' sadness, the more unhappy they became. "If [Jordan's] conclusions are correct, it follows that the site would have a special power to make us sadder and lonelier," Slate writer Libby Copeland explained in her coverage of the study. "By showcasing the most witty, joyful, bullet-pointed versions of people's lives, and inviting constant comparisons in which we tend to see ourselves as the losers, Facebook appears to exploit an Achilles' heel of human nature."

Chances are if you asked a random Facebook user what interests him or her most about friends' profiles, he might mention status updates, comments, link shares and events. But Mashable decided to test whether actions speak louder than words by using eye-tracking technology to determine where users' eyes actually linger longest. After tracking the eye movements of about 30 users as they browsed profiles on Facebook, Google+, LinkedIn and other sites, they made some interesting observations: On Facebook, StumbleUpon and Klout, profile pictures interested users the most. On LinkedIn, however, job title drew eyes quickest and longest, garnering more attention than anything else on the page. People actually do pay attention to who you know, scanning the tiny thumbnail pictures accompanying users listed on users' "Friends" list. As one might expect, the stuff posted at the top of profiles gained more attention than content appearing lower on the page, except on YouTube and Twitter. Check out Mashable for the full results of the study.

After studying the Facebook profiles of 225 male undergraduates at a large university, most around 19-years-old, researchers Katie Egan and Megan Moreno found that 85 percent referenced alcohol at least once in their profiles. Perhaps not surprisingly, an increase in references to alcohol corresponded to an increase in Facebook friends.

Researchers working in a partnership between Facebook and the University of Milan debunked the age-old "six degrees of separation" myth by analyzing the accounts of 721 million Facebook users -- or more than one-tenth of the world's population -- and finding that the average number of links separating one random person from another was 4.74. In the United States the number was even lower: 4.37. That's a much shorter distance between strangers than the 6.6-degree separation calculated by Microsoft researchers back in 2008, The New York Times explained in its coverage of the study. Check out Facebook's Data Page for more of the company's own research.

As reported by Mashable, a study analyzing the correlation between Facebook use and grade point average found that the average undergraduate's GPA only falls by 0.12 points for every 1.5 extra hours per week spent browsing Facebook. However, "extra time" in this context means the number of hours a person spends on Facebook above the average time most students spend per week on Facebook ... which is around 12 hours.

Despite Facebook safety regulations that prohibit children under the age of 13 from joining the site, half of all 12-year-olds have profiles on the site, a New York University survey found. And many of those kids registered on the site with the help of their parents. A number of parents interviewed about the study for the New York Daily News expressed an attitude of mixed resignation and support. "It's unenforceable. It's like having a big bowl of candy and not letting them have any," one parent said. "The internet is everywhere around us. You can't get away from it. You just have to have a long conversation about the rules."

It's hard to imagine Facebook not playing a part in the results of a recent Pew Center study which found that on any given day, over half of all adults aged 18-29 go online with no particular goal in mind aside from passing the time or having fun. "If they have broadband, if they are online video consumers, if they use social media of any kind -- especially social networking sites -- they are much more likely than others to go online to pass the time," the Pew Research Center's Internet & American Life Project explained in their analysis of the study.